AXYS to Deliver High-tech Buoy in Nova Scotia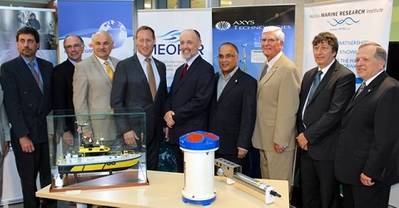 AXYS Technologies Inc. said it will supply a three-meter met ocean buoy for the Canadian Government for the supply of a weather buoy off Herring Cove, Nova Scotia to be delivered in early fall, 2013. The buoy will measure and report real-time meteorological and oceanographic conditions for the Halifax Port Authority to enhance local maritime safety for both commercial and recreational vessel operators. The information from this buoy will also be distributed and used for education, scientific research and the general public.

"Helping shippers with precise weather and wave conditions will help keep mariners safe while increasing productivity, reducing costs, and moving goods through Atlantic ports more effectively," said Keith Ashfield, Minister of Fisheries and Oceans, Minister for the Atlantic Gateway and Regional Minister for New Brunswick. "Our government remains committed to our ongoing work with provincial and private-sector partners to implement the Atlantic Gateway and Trade Corridor Strategy, which will help position Atlantic Canada as a key entry point into North America."

The SmartATLANTIC Herring Cove Buoy project is the result of a 10-year effort by the Canadian Marine Pilot's Association in collaboration with the following funding partners: the Halifax Marine Research Institute (HMRI), MEOPAR, and the Canadian Coast Guard. This 3m buoy is the first of three inshore weather buoys being planned for the region.

The AXYS 3m buoy is a proven met-ocean platform ideal for rough marine environments. The 3m buoy for Herring Cove will be equipped with sensors to measure waves, currents, winds, air temperature, and atmospheric air pressure. Information will be available through HRMI and direct transmission from the buoy by the use of an AIS radio to any AIS instrumented vessel capable of decoding Met-Hydro data.

"The ocean plays an important role in the lives of Nova Scotians, and in the growth of our economy," said Graham Steele, Minister of Economic and Rural Development and Tourism. "This smart buoy will have significant benefits for many of our province's ocean-related industries, ranging from commercial shipping to tourism."

axystechnologies.com


• Nova Scotia • Canadian Government • Nova Scotia AXYS Technologies Inc.