US Navy Deploys a Fleet of Saildrones to the Caribbean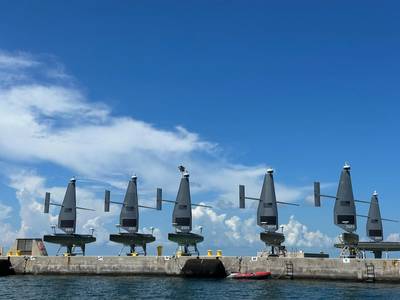 Commercial operators began deploying 10 Saildrone Voyager Unmanned Surface Vessels (USVs) out to sea, a critical first step in U.S. 4th Fleet's Operation Windward Stack.
Launched from Naval Air Station Key West's Mole Pier and Truman Harbor, the Saildrones' mission once on station is to improve maritime domain awareness, or MDA, by detecting and quantifying targets that pass within range of the Saildrones' sensors.
Operation Windward Stack is a long-term operation of unmanned and manned forces working together, also known as a hybrid fleet, as envisioned by the Secretary of the Navy and the Chief of Naval Operations. Windward Stack is part of 4th Fleet's unmanned integration campaign, which provides the Navy a region to experiment with and operate unmanned systems in a permissive environment, develop Tactics, Techniques, and Procedures (TTPs) against near-peer competitors, and refine manned and unmanned Command and Control (C2) infrastructure, all designed to move the Navy to the hybrid fleet.
First, operators and watchstanders at U.S. 4th Fleet will conduct tests and coordinate information flow as the solar-powered Saildrones sail into the Caribbean. "Operation Windward Stack begins with testing as we integrate the information we receive from the Saildrones into our fleet command center to further increase maritime domain awareness in the U.S. Southern Command Area of Responsibility (AOR)," said Lt. Cmdr. John Clark, U.S. 4th Fleet's Current Operations (COPS) Director. "We will eventually have the opportunity to work through the command and control of both manned and unmanned forces operating throughout our region."
The 10 Saildrones will serve as the initial unmanned vessels in the operation. Plans are to add additional USVs, unmanned aerial vehicles (UAVs) and manned maritime forces over the next few months to further challenge C2 integration and to expand the MDA coverage.
"We were able to demonstrate coordinated operations of manned and unmanned forces during UNITAS LXIV, a multinational maritime exercise, but that was for a relatively short time," said Capt. David Fowler, U.S. 4th Fleet Maritime Operations Center (MOC) Director. "With Windward Stack, we're going to coordinate these operations for many months. That is how we will truly learn what these unmanned vessels can do for us on a day-to-day basis."
U.S. Naval Forces Southern Command/U.S. 4th Fleet supports USSOUTHCOM's joint and combined military operations by employing maritime forces in cooperative maritime security operations to maintain access, enhance interoperability, and build enduring partnerships in order to enhance regional security and promote peace, stability and prosperity in the Caribbean, Central and South American region.