Exail Launches All-in-one INS and DVL System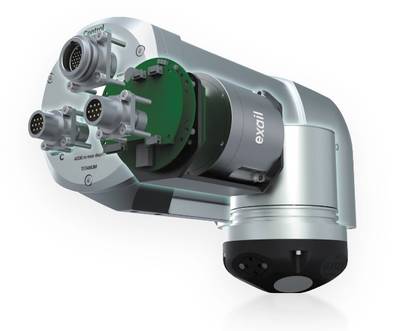 Subsea inertial navigation systems (INS) manufacturer Exail has launched the Rovins 9 DVL, a new all-in-one system for subsea vehicles that combines the best of inertial navigation and Doppler Velocity Log (DVL) technologies in one tightly integrated system.
Described as highly compact for easy vehicle integration, the Rovins 9 DVL all-in-one design combines, in a single housing, Exail advanced Fiber-Optic based INS with a Nortek DVL. This tight integration of raw sensor data from both INS and DVL provides operators with highly accurate position, velocity, and attitude information, even in challenging subsea environments, Exail said. This new all-in-one system is suited for subsea companies looking to maximize efficiency, and allows for higher levels of reliability, with a position accuracy of up to 0.02%TD and a heading accuracy of up to 0.01°RMS, according to the manufacturer.
"By merging the INS and DVL complementary measurements, the resulting navigation data becomes much more precise and accurate than either system used alone. The ability to connect external sensors such as pressure sensors through the satellite connectors available on the system, provides even greater accuracy," said Maxime Le Roy, INS Product Manager at Exail. "The Rovins 9 DVL greatly simplifies the work of subsea operators in the field. The system can be easily integrated into a variety of subsea vehicles, including ROVs, AUVs and tow fishes, thanks to its unique compact horizontal design and plug-and-play feature."
Suited for AUV manufacturers and e-ROV operators seeking to save watts without compromising on data processing power, the Rovins 9 DVL, operates on low power consumption and is highly resistant to high pressure and harsh environments, deployable down to 6,000 meters.
The new all-in-one system is ready for immediate deployment, enabling fast in-motion self-alignment and not requiring on-the-field calibration.