PME Extends miniDOT Logger Range
In 2023, Precision Measurement Engineering (PME) increased the miniDOT Logger measurable depths to 300 meters; tripling the device's original logging limits of 100 meters. The miniDOT Logger is a completely submersible instrument that logs dissolved oxygen and temperature measurements for applications such as lakes, rivers, streams, estuaries and coastal waters, as well as oceanographic research. The oxygen sensor is an optode that measures dissolved oxygen concentration in water through a fluorescence method. Data are recorded to an internal SD card. Operation of the miniDOT Logger such as setting the time and sample interval can be accomplished via the USB cable.
PME also offers an anti-fouling wiper compatible with the miniDOT Logger. The miniWIPER was designed in-house by PME engineers to have a wiper that is completely submersible, reliable and easy to use. The miniWIPER is intended to provide gentle brush action across the sensor and can wipe at intervals from once, every hour or once, every 24 hours. An anti-fouling copper plate is available to be placed on the miniDOT logger to increase wiper effectiveness. Internal software allows the user to set the wiping interval and check the battery voltage.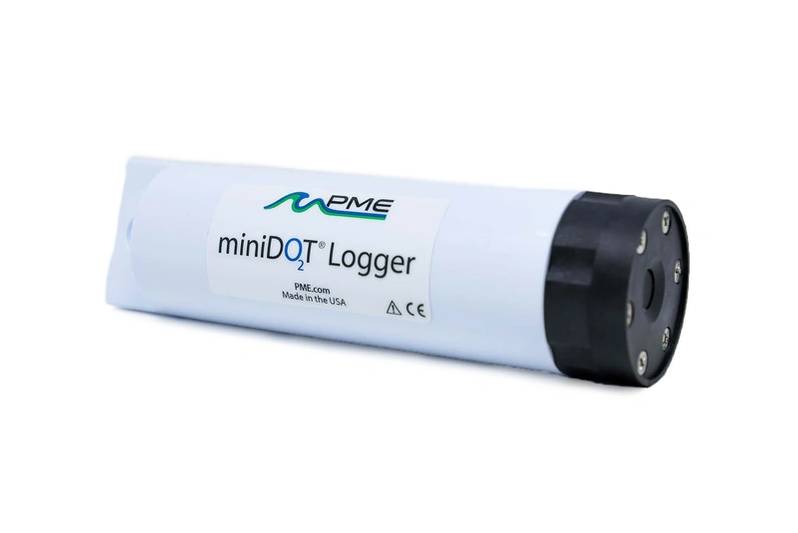 Image courtesy Precision Measurement Engineering (PME)