Fugro Boosts Offshore Wind Service Capabilities in Taiwan with New Geotechnical Lab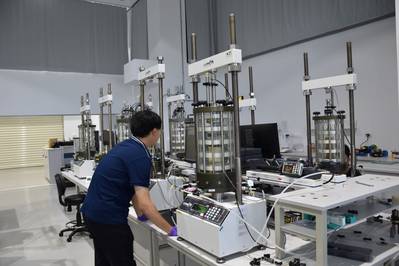 Offshore survey services and geo-data specialist Fugro on Tuesday announced the opening of its new geotechnical testing laboratory in Kaohsiung, Taiwan.
Fugro said the new lab would bolster the company's capability to deliver advanced geotechnical testing for the offshore wind market, and the energy and infrastructure sectors.
The new laboratory is expected to increase Fugro's lab capacity in Asia Pacific by 20% and reduce the turnaround time on testing by at least 30%. Soil testing services are critical to understanding the site conditions for the foundation design of offshore wind farms.
In 2020, Fugro IOVTEC was established as a joint venture with IOVTEC Co., Ltd to support Fugro's business expansion in Taiwan's rapidly developing offshore wind market. Fugro now boasts three advanced testing laboratories in the Asia-Pacific region, including Australia, Singapore, and Taiwan.
Vincent Tsai, Chairman of International Ocean Group and Deputy GM of Fugro IOVTEC, said: "It is always a delight to partner with international corporations who recognize the value of Taiwan's offshore wind market. Following the establishment of Fugro IOVTEC, the new laboratory underscores Fugro's commitment to strengthen local capabilities and cement Taiwan's role as a pioneer in driving energy transition across the region."
Nancy Chan, Director, Engineering and Laboratory, Fugro Singapore Marine and General Manager, Fugro IOVTEC (Taiwan), said: "Amid the increasing emphasis on reducing our collective carbon emissions, Asia Pacific is actively transitioning towards more resilient energy systems to create a safer and more livable world. The expansion of our laboratory capabilities will strengthen Fugro's position to meet the industry's demands and support the region's growing offshore wind ambitions."