Greensea IQ Demo Day: Bayonet's Tech Shines at Cordage Park
On October 17th, the waterfront in Plymouth, MA, was abuzz with innovation and excitement. A demonstration and ribbon-cutting event hosted by Greensea IQ in Cordage Park showcased some remarkable technology by Bayonet, a Greensea IQ company. Other manufacturers, including SeaTrac, Jaia Tech, and MIT SeaGrant, were also on hand to demonstrate their technology.
Cordage Park is on Plymouth's picturesque waterfront, providing a perfect backdrop for this innovative demonstration event. Bayonet specializes in Autonomous Underwater Ground Vehicles (AUGVs), offering a range of sizes to meet diverse mission requirements. The Bayonet AUGVs are renowned for their adaptability, precision, and durability, which makes them ideal for various aquatic environments.
This demonstration event was more than just a showcase of technology; it was a crucial part of the Blue Future Conference. Organized by the Plymouth MA Economic Development group, the conference is part of a visionary initiative to build a sustainable industry in Plymouth. It aligns perfectly with the town's rich maritime history, ensuring that the legacy of innovation continues to thrive in the region. The event presents a proactive step toward fostering economic growth while maintaining environmental sustainability.
Attendees had the opportunity to watch the demonstrations of cutting-edge technologies at the waterfront before attending a ribbon-cutting ceremony and reception. This ceremony marked the inauguration of Greensea IQ's new Integrated Systems Production Facility, a state-of-the-art center dedicated to developing and assembling advanced marine technology. A reception followed the ribbon-cutting ceremony with local dignitaries, friends of Greensea, and maritime professionals from South New England in attendance.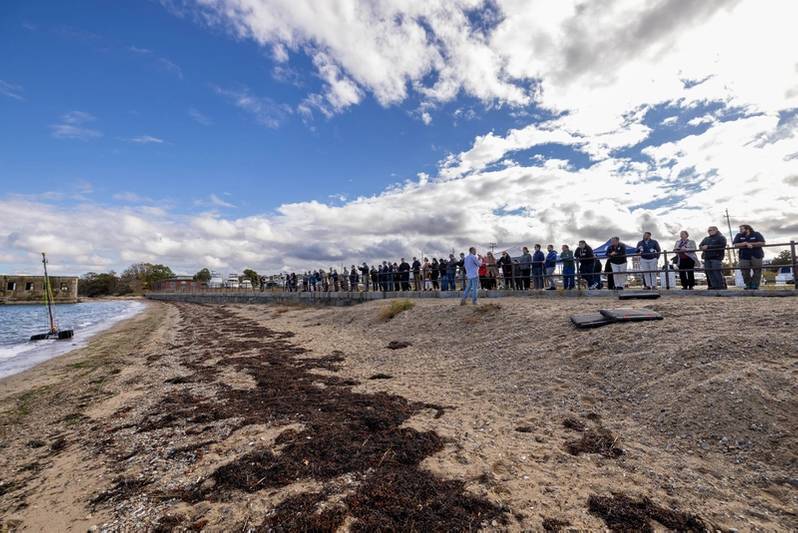 Photo: Rhonda Moniz