Hanwha Ocean Eyes Submarine Exports to Canada, Philippines, Poland - official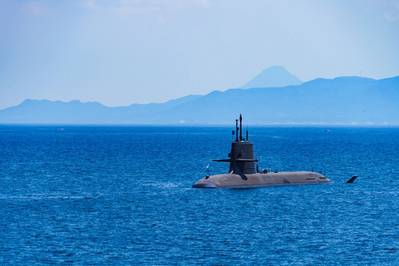 South Korea's Hanwha Ocean has pitched offers to build submarines to Canada, the Philippines, and Poland, a company official said on Wednesday, as the country pushes to become one of the world's top four defense exporters.
Canada is studying potential builders for new submarines and has expressed interest in Hanwha Ocean among other foreign rivals, Kim Seung-min, leader of Hanwha Ocean's naval and special ship overseas marketing team, told Reuters in an interview, without naming the competitors.
"We are now checking on our shoelaces at the start line before the race kicks off," Kim said on the sidelines of the country's biggest defense show, Seoul International Aerospace and Defense Exhibition (ADEX).
South Korea's President Yoon Suk Yeol has pledged to step up efforts to boost weapons exports and secure cutting-edge defense technologies as he aims to build the industry into one of the world's four largest exporters.
Currently, the top four arms exporters are the United States, Russia, France, and China, according to the Stockholm International Peace Research Institute think tank.
Hanwha Ocean, formerly known as Daewoo Shipbuilding & Marine Engineering, is a leading South Korean defense contractor that has built submarines for the South Korean and Indonesian navies.
Kim said Hanwha Ocean had responded this year to questions from Poland on its submarine building capabilities, after registering interest in the European country's tender to build about three submarines.
Last year, South Korea inked a $13.7 billion arms deal with Poland - Seoul's biggest ever - laying the groundwork for a major military-industrial business.
Hanwha Ocean is also vying to sell diesel-powered submarines to the Philippines, which is looking to acquire two submarines over the 2,000-tonne level, Kim said.
Tensions are rising between the Philippines and China over the South China Sea. The Philippines currently has no submarine fleet.
Kim said the company had proposed supplying the Philippines with submarines with lithium ion batteries, which allow the subs to stay underwater much longer than those with lead acid batteries - an advantage over French and Spanish submarines.
(Reuters - Reporting by Ju-min Park; Editing by Sonali Paul)