Nova Innovation's Floating Solar Technology Powers Forth Ports' HQ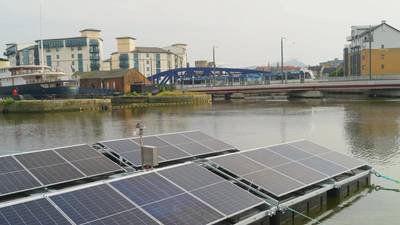 Marine energy firm Nova Innovation has installed a marine floating solar demonstrator to power Forth Ports' headquarters in the Port of Leith, Scotland.
"Nova's expertise in managing subsea power stations has paved the way for the development of robust floating solar technology. The installation comes on the back of Forth Ports launching its commitment to achieving Net Zero by 2042," Nova siad.
According to Nova's press release, Forth Ports' strategy is focused on developing world leading infrastructure at its ports to facilitate the energy transition and create high quality green jobs.
"Investment in infrastructure not only assists in the transition to Net Zero but also lays the groundwork for emerging technologies such as Nova's marine floating solar technology," Nova Innovation said.
The marine solar demonstrator was built and installed by Nova over the summer. The operational array has already successfully passed its first big test generating electricity through the formidable 'Storm Babet' in October - a promising start as it prepares for the Scottish winter ahead, the company added.
David Webster, Director of Energy for Forth Ports, said: "We are excited to incorporate floating solar into our operations at the Port of Leith. Working with Nova Innovation demonstrates our drive towards progressive change within the maritime industry, as well as supporting our commitment to carbon neutrality by 2032 and achieving Net Zero carbon emissions by 2042."
Simon Forrest, CEO of Nova Innovation adds: "With water covering two thirds of the planet, floating solar technology offers a promising means of harnessing abundant solar energy while preserving valuable land space. We are delighted to have deployed the first floating solar demonstrator at Forth Ports and are already working on larger installations."
According to Nova Innovation, the potential for floating solar is huge.
"With the collective vision firmly fixed on a greener future, it's noteworthy that DNV, a trusted authority in the field foresees a potential market of a staggering 4,000 GW of floating solar capacity. This underscores not only the immense potential of floating solar, but also the role Nova plans to play in a global movement towards achieving energy security and Net Zero using renewable energy," Nova said.