James Fisher Continues Growth in Middle East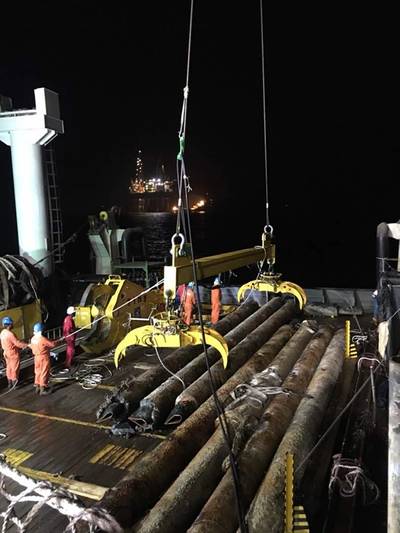 James Fisher and Sons plc reported further expansion of its operations in the Middle East, including the recent completion of cable and pipeline trenching projects and new construction and decommissioning activities going live across the region.
With decommissioning and subsea trenching projects recently completed, James Fisher said it has moved onto five construction and decommissioning projects currently underway, including cable installation, survey and diving operations and the cutting and removal of subsea infrastructure in the Gulf of Arabia. A heavy duty 500t linear winch is also on route to the Gulf in preparation for new shore approach pipe line pull in projects starting in December.
"Over the last year, we have seen a sharp increase in demand for our services in the Middle East oil and gas sector," said Faisel Chaudry, regional director at James Fisher. "Our continued investment illustrates our group-wide commitment to support our customers in the region."
James Fisher now has its largest ever deployment of equipment and manpower in the Middle East, working on installation, operations and maintenance and decommissioning works. It is represented in the Middle East by the following subsidiaries:
James Fisher Offshore - a specialist offshore partner in the delivery of subsea and topside projects
James Fisher Marine Services - an integrator of complex marine and offshore projects
James Fisher Subsea Excavation - subsea excavation specialist
Fendercare Marine - ship-to-ship transfers and supplier of marine products and services
Subtech Group - specialized in the provision of marine and subsea services
Strainstall - testing and monitoring solutions developer
Return To Scene - delivers software, visualization and digitization solutions
The group's existing significant capabilities include a comprehensive range of services such as diving and remotely operated underwater vehicle (ROV) services, subsea excavation, subsea project support and offshore equipment and personnel supply.

And, as demand increases, James Fisher said it will continue to invest in mobilizing offshore equipment to the region, strengthening its resources and offer faster deployment to projects.

The company will continue to deploy a host of equipment that will be based in the region, including a range of 150t winches, tension spooling equipment, diamond wire saws and ancillary equipment – all supported by its team of offshore and subsea professionals in the Middle East.

"As our operations expand, we plan to deploy even more of our resources and expertise, establishing a permanent presence that will offer unrivaled support and truly integrated subsea service solutions," Chaudry said.

• marine products • Middle East • offshore equipment