Kraken Robotics Reports Strong Q2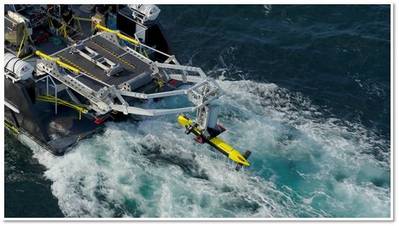 Kraken Robotics Inc. has announced solid financial results for the quarter ended June 30, 2023.
Products revenue in the quarter was $10.5 million, an increase of 24% over the comparable quarter. The increase was the result of continued sales of KATFISH, subsea batteries, work with the Canadian Navy on its RMDS program as well as the sale of synthetic aperture sonar (SAS) systems.
Services revenue in the quarter was $3.2 million, a decrease of 45% over the comparable quarter due to a large Acoustic Corer project in the comparable quarter a year ago. Sequentially, services revenues increased 41% from Q1 2023.
Consolidated revenue for Q2 2023 was $13.7 million compared to $14.7 million for the quarter ending June 30, 2022, a decline of 4% due to the large services project in Q2 2022. Sequentially, consolidated revenue increased 80% in the quarter compared to Q1 2023.
Gross margin in Q2 2023 was 57% compared to 45% in Q2 2022 and increased due to the sale of higher margin products during the quarter compared to the prior year.
Adjusted EBITDA for the quarter was $3.0 million.
During the quarter it was determined that PanGeo (acquired in July 2021) would not meet its second earn-out under the terms of the Share Purchase Agreement. As a result, the company recorded a gain on the extinguishment of contingent consideration of $4.0 million and recorded an impairment of goodwill $2.8 million.
Net income in the quarter was $2.0 million, compared to net income of $0.5 million in Q2 2022.
"With solid results in the first half of 2023, we look forward to a continued ramp in the second half of 2023 and beyond," said Kraken President and CEO Greg Reid. "Our sonar and subsea power business are seeing strong growth opportunities, and with significant contracts in hand, we have been focused on adding depth across the organization and sharpening our execution as we scale.
"With the recent expiry of share purchase warrants, the repayment of the acquisition debt and no further contingent consideration from the PanGeo acquisition, and increases to our credit facilities, we have de-risked our balance sheet and potential for share dilution. Having secured several long-term contracts and customer relationships and added more depth in areas such as engineering, project management, and production, we are building future value.
"Our outlook, driven by industry trends in subsea security and offshore renewables, is strong. We believe our value in the market is not reflective of our significant investment to date, our unique competitive position, and strong pipeline. We will continue our focus on execution as we believe we are in the early days of creating significant shareholder value."