Kraken Tallies $2.1 Million KATFISH Order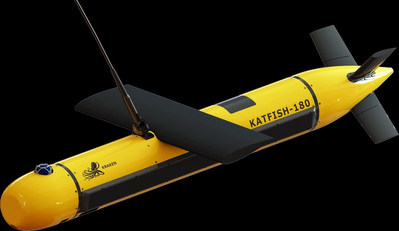 Canadian based marine technolgy firm Kraken Robotics said its Kraken Robotic Systems subsidiary has received a purchase order from ThayerMahan, for a KATFISH 180 towfish system. The contract value is $2.1 million, and delivery is expected in the third quarter of 2019.
ThayerMahan, a US-based company specializing in the design, integration, and operation of autonomous maritime systems, will deploy Kraken's KATFISH 180 as part of its SeaScout expeditionary system for seabed mapping and intelligence.
Kraken's KATFISH 180 is an actively stabilized towfish with synthetic aperture sonar (SAS) providing wide area seafloor survey, with area coverage rates (ACR) of 3km2/hour and up to 8 knots tow speed; superior pixel resolution for detection and classification (3cm x 3cm @ > 200m per side range); real-time, full-swath, full-resolution SAS processing; 200m+ operating depth; altitude- or depth-keeping navigation; automatic target detection; and in-stride classification.
ThayerMahan's SeaScout system includes real-time seafloor imagery transmission using secure, reliable (zero-error), rapid, data-compressed content delivery to cloud-based storage between fixed sites and mobile platforms, as well as cloud-based data analytics, using machine learning for automated change detection of seabed targets by comparing test-generated and deployed seabed targets against previously surveyed bottom mapping baseline information.
Admiral (retired) Mike Connor, ThayerMahan's President and CEO, said, "The search rate, resolution, seakeeping ability, and real-time processing of the KATFISH system will enable ThayerMahan to deliver a level of service that will fundamentally change the maritime survey industry."
Connor, a retired U.S. Navy Vice Admiral, is ThayerMahan's founder and also serves on Kraken's board of directors.
The recent order is the first resulting from a strategic alliance entered between the two companies in February 2018. Under this collaboration, both companies are delivering next generation underwater sensors and robotics for military, law enforcement, port and maritime security, environmental monitoring, and seabed survey applications. In August 2018, the companies participated in the US Navy's Advanced Naval Technology Exercise, an annual invitation-only event that was created by the U.S. Navy to see the future of naval technology in action today.
Karl Kenny, Kraken's President and CEO, said, "Seafloor mapping is one of the oldest professions known to humankind. For thousands of years, mariners have been measuring the seabed under their vessels. Today's ocean surveying market is valued at over US$3 billion per year. Kraken's customers have requested a high speed, ultra-high resolution seabed mapping solution that leverages our sensor and robotics technology. With KATFISH, surveyors can now increase the quantity of seafloor data, significantly improve data quality and lower data acquisition costs – all in real time."