C-MAP Launches High-res Coastal Bathymetry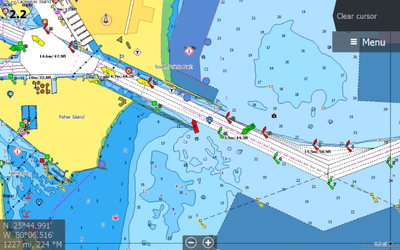 Digital marine cartography and cloud-based mapping company C-MAP,announced the release of a new feature for C-MAP chart cards – Coastal High Resolution Bathymetry (HRB).
Offering anglers the latest and most detailed contour data for their C-MAP charts, Coastal HRB enhances current MAX-N+ cards with the highest resolution depth contour detail available. Combined with the custom depth shading available in all Navico chartplotters, it is especially helpful to fisherman who are looking to highlight those areas where fish gravitate. Available now, Coastal HRB comes with new chart purchases from data version v42.
"High Resolution Bathy gives C-MAP users the option to add another layer of more detailed contour data that reveal to anglers locations that are attractive to fish," said Leif Ottosson, CEO, Navico. "After listening to our customers, we know that detail is important for planning routes and trolling, however it can be distracting when on the move. Our new HRB also allows users to turn off the layer for a cleaner look while navigating."
The Coastal HRB is available for the following C-MAP MAX-N+ titles:
USA East Coast and Bahamas
USA West Coast and Hawaii
Great Lakes, North East Coast and Approaches
Central America and Caribbean
Passamaquoddy Bay to Block Island
Cape Cod, Long Island and Hudson River
Block Island to Norfolk
Norfolk to Jacksonville
Florida and the Bahamas
St. Lucie Inlet to New Orleans
New Orleans to Brownsville
San Diego to Santa Cruz
Point Sur to Cape Blanco
Cape Blanco to Cape Flattery
Puget Sound, Juan de Fuca and San Juan Islands
Victoria, British Columbia to Cape Scott
San Juan Islands to Nigei Islands
Queen Charlotte Sound to Dixon Entrance
Hawaiian Islands
• British Columbia • East Coast • Juan de Fuca