Major Gas Supplier Norway Closely Monitoring Baltic Sea Pipe Burst Probe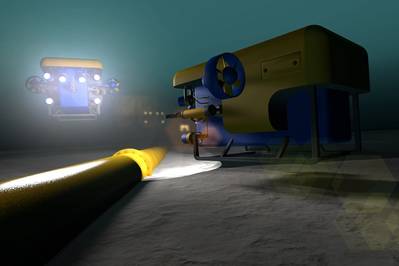 Norway, Europe's largest gas supplier, is closely monitoring the progress of a probe into unexplained damage on a Baltic Sea gas pipeline, having already stepped up security at its energy installations after the Nord Stream blasts last year.
Sunday's incident in the Gulf of Finland, when a pipeline and a data cable were damaged due to "outside activity" according to Finnish authorities, has stoked concerns about the security of energy supply in the wider Nordic region.
Norway exported more than 120 billion cubic meters of gas in 2022 to the European Union and Britain, mainly via a system of some 22 pipelines spreading over more than 8,800 km (5,470 miles).
"We are now in close dialogue with the relevant security authorities and are following the situation closely to assess relevant security measures," a spokesperson for Gassco, which operates Norway's gas pipeline network, told Reuters.
There have been no reported incidents in Norway, the spokesperson added.
On Wednesday, Norwegian police said it had increased patrols around onshore installations on the west coast, which include the Mongstad oil terminal and two gas processing plants, Kollsnes and Kaarstoe.
---
---
"The security level has been raised since the events of last year, and still is," said a spokesperson for oil lobby group Offshore Norge, referring to the sabotage of the Nord Stream pipelines in September 2022.
Still, the undersea infrastructure is so vast it is very difficult to protect.
"We speak about thousands of kilometres of cables or pipelines," NATO Secretary General Jens Stoltenberg said on Thursday after a two-day NATO meeting during which the Baltic Sea incident was discussed.
"Of course there is no way to have military presence along all these pipelines and infrastructure all the time."
NORD STREAM
After the Nord Stream sabotage in September 2022, Norway deployed its Navy to protect its offshore oil and gas platforms in the North Sea, with support from NATO allies, such as German and French frigates and British surveillance planes. The patrols continue.
On land, the Home Guard was temporarily deployed to help Norwegian police patrol onshore oil and gas installations.
In addition, energy major Equinor surveyed key gas export pipelines,such as the Europipe II link to Germany, on behalf of Gassco.
It used specialized vessels equipped with remotely operated underwater vehicles that scanned the pipelines for anything out of the ordinary, like damages, foreign objects or ground disturbances.
Equinor found nothing suspicious, its head of security and safety told Reuters in May.
Norway designated Equinor and Gassco as companies critical to national security, and collaboration between energy companies and the country's intelligence services was stepped up.
More company executives than before were screened to receive security clearances so that they could read classified intelligence updates.
"We meet regularly with the Norwegian security authorities to ensure a common understanding of risk and the situation, and we assess the risk picture and measures on an ongoing basis," an Equinor spokesperson said this week.
---
---
In January, Equinor CEO Anders Opedal was invited to NATO headquarters in Brussels to discuss ways to better protect offshore energy installations, the first time an Equinor chief was invited to do so.
And in February, NATO established a taskforce dedicated to the protection of undersea infrastructure to improve cooperation between the military and the energy industry.
However, "a key bottleneck continues to be surveillance, monitoring and information sharing, both between civil and military actors, states and in the region," Christian Bueger, a professor of international relations at the University of Copenhagen, said.
"NATO doesn't have any credible means to reciprocate, other than speeding the work on critical maritime infrastructure protection and surveillance," he added.
Balticconnector map https://tmsnrt.rs/3FegRZS
(Reuters - Reporting by Nerijus Adomaitis and Nora Buli; editing by Gwladys Fouche and Susan Fenton)