Marine Power Systems PelaFlex Floating Wind Platform Receives Feasibility Certification from DNV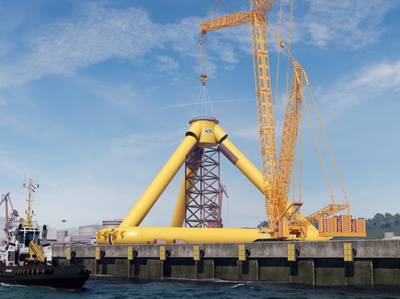 Marine Power Systems said Tuesday that its flexible floating platform technology, PelaFlex, has been awarded the Statement of Feasibility by the independent certification body, DNV.
According to Marine Power Systems, its modular floating platform solution supports the rapid deployment of industrial-scale floating offshore wind while maximizing local content delivery through the existing supply chain.
Marine Power Systems said that the high system stability, low overall mass, and zero tilt maximize energy yields, allow for simple installation using standard vessels, and increase operation and maintenance weather windows. Multiple launch options and shallow draft supports a distributed port model for faster deployment and reduces the need for specific port requirements.
Per Marine Power Systems, the company is working with several major energy developers on engineering studies, focusing on the deployment of their technology at specific sites in Europe and further afield. That includes RWE, Wales' largest energy generator, to help prove the platform's capabilities in the Celtic Sea marine environment and test the deliverability of the technology in the region. They are also working on pre-commercial projects in Gran Canaria and Portugal to prove and further optimize their technology.