Nexans to Install Section of World's Longest and Deepest Interconnector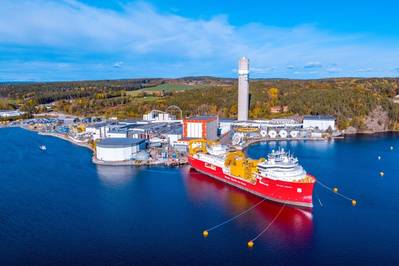 Subsea power cable maker Nexans has been awarded a major contract valued at €1.43 billion for the section of the EuroAsia Interconnector that connects Greece and Cyprus.
"As a critical part of a broader project to connect the grids of Greece, Israel, and Cyprus, the 525kV high voltage direct current (HVDC) cable will be the longest and deepest interconnector in the world with a bi-pole length of 2x900 km, and will run across the Mediterranean Sea floor at depths of over 3,000 meters," Nexans said.
Impregnated cables will be manufactured in Nexans' facilities in Halden (Norway) and Futtsu (Japan) and will be installed by the cable laying vessels Nexans Aurora and Nexans Skagerrak.
The EuroAsia Interconnector will exchange up to 1,000 MW among the three nations with the capability of increasing to 2,000 MW, the equivalent to three million households' average electricity consumption.
Pole One is expected to be completed in 2028 and Pole Two in 2029.
The interconnector has been designated as a Project of Common Interest (PCI) by the European Union which will allow the project to benefit from accelerated planning and permitting, lower administrative costs, and public participation. To qualify as a PCI, a project must also contribute to the European Union's energy and climate goals, and as a result, much of the electricity being shared will be from renewable and decarbonized sources.
IPTO, Transmission System Operator of Greece, has been providing technical and operational capacity to the project ensuring the successful implementation.
Nasos Ktorides, CEO of EuroAsia Interconnector, said: "We are proud that after 12 years of hard work, the world's longest and deepest subsea HVDC electricity interconnector built by Nexans will put Cyprus on the world energy map, while also ending the energy isolation of Cyprus, the last non-interconnected EU member state, and Israel. The EuroAsia Interconnector Israel-Cyprus-Greece electricity interconnector is a leading European project of common interest PCI 3.10 that ends the energy isolation of Cyprus and Israel, creates security of supply, significantly reduces the CO2 emissions, and serves the "Green Deal" of the European Commission."
The parties expect formal clearance of the Greek and Cypriot energy regulators to intervene in due course, Nexans said.