OceanGate Names McCurdy Chief Operating Officer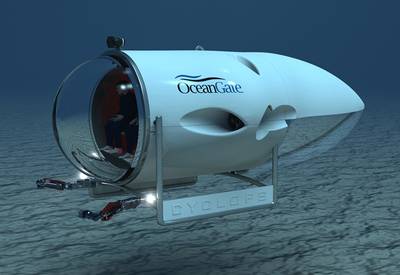 OceanGate Inc. (OGI), a global provider of deep-sea manned submersible solutions, has named Seattle native Neil McCurdy as chief operating officer. In his role as COO, McCurdy will be responsible for administering OceanGate's corporate strategy and coordinating operations and sales programs to reduce costs and increase profitability. In addition, managing the production and roll out of OceanGate's next-generation submersible, the 3,000 meter Cyclops, will be among McCurdy's chief responsibilities. His 15-plus years of expertise in developing and managing high-performance worldwide sales and distribution channels for marine vessels and products will bolster the OceanGate executive management team.

McCurdy, who reports directly to the OGI Board of Directors and CEO Stockton Rush, comes to OceanGate following a career in the marine industry. Prior to joining OceanGate, McCurdy held management positions with Grand Banks Yachts Ltd. (GBYL.SI), a Singapore-based international manufacturer of recreational marine vessels. During his tenure at Grand Banks, he served first as vice president of worldwide sales and service, managing international sales, service, and distribution networks in America, Europe, and the Asia-Pacific region. He most recently held the position of vice president of sales administration and service, with executive-officer duties operating and administering Grand Banks' worldwide distribution network, as well as profit-and-loss responsibilities for the company's North American operations.

Before his tenure at Grand Banks, McCurdy was vice president of operations and general manager of YachtWorld.com, the world's largest online database of yachts for sale, with more than 100,000 listings in 86 countries. While at YachtWorld, McCurdy was responsible for the executive management of business operations, directing sales, marketing, accounting, site-engineering and business development efforts.

oceangate.com


• Neil McCurdy • OceanGate Names McCurdy Chief Operating Officer OceanGate Inc. • Grand Banks Yachts Ltd.