Offshore Lifting Trials Completed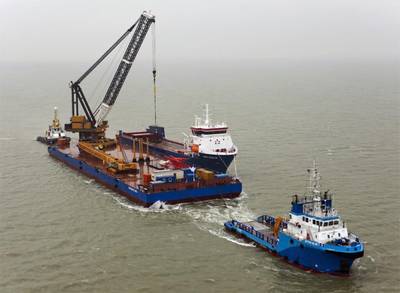 Offshore lifting trials with crane barge Conquest MB1 and Cargo / supply vessel Abis Dublin successfully completed.
deugro Denmark A/S, together with partners Conquest Offshore and Amasus Shipping / Abis Shipping, have developed a plan for the installation of offshore windpark components. The approach of this plan is the use of a standard offshore barge with a 1,500 tons offshore crane (Conquest MB1) that will stay on location and will do the actual installation work on site (at present foundations and transition pieces only).

The supply of all heavy components from the fabrication yards will be carried out by "open-top" cargo vessels (Abis Dublin or sister vessels). The design of these vessels enables large structures to be transported offshore in an "open top" condition. The vessels are further fitted out with DP systems which enable offloading operations offshore without the added limitation / risk of mooring the vessel alongside the barge.

In this concept the time loss for transporting components on board the installation vessel from a nearby port is eliminated. The added advantage is that the feeder vessels can haul components from the actual fabrication sites instead of from a nearby "feeder" port.

The lifting trial has been carried out in the Flushing / Westerscheldt area in December 2012 to proof the feasibility of offshore lifting operations from a free floating vessel to a crane barge.

Two approximately 200 ton test weights were unloaded by heavy lift crane barge Conquest MB1, from the DP feeder vessel Abis Dublin. The test lifts was successfully performed in weather conditions with wavesof 0.5 to 1.5 meter, waveperiods of 2 to 9 seconds and windspeeds of 23 to 29 knots (12 to 15 m/s. 6 to 7 beaufort).

Siri Marine monitored and recorded all motions during the lifting trials, including wave induced vessel and barge motions and especially heave motions of the vessel and the crane hook.

Conquest Offshore B.V. is a Dutch Joint Venture between Concordia Offshore and Zwagerman Offshore which developed the new built 1500 ton offshore heavy lift crane barge, Conquest MB 1, equipped with an accurate and fully automated anti-heeling system and a free deck space of 3700m² for 9000 tons of cargo.