#Oi2020 History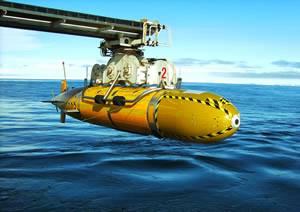 In June 2010, it was announced by the National Oceanography Centre that its robot submarine-- Autosub3--was instrumental in the Centre's study on the reasons behind the steady thinning of a vast glacier in Western Antarctica over recent decades.
The now-retired robot submarine was deployed deep beneath a floating ice shelf by scientists investigating the thinning and acceleration of Pine Island Glacier. The study was led by Dr. Adrian Jenkins of the British Antarctic Survey (BAS), and also involved scientists from NOC in Southampton and the Lamont-Doherty Earth Observatory (LDEO) in the US.
As a result of using Autosub3, scientists were able to identify a probable cause of the glacier's continuous thinning. As the sub probed 37 miles beneath the ice shelf, its multi-beam sonar system built up a 3D map of the ice above and the seabed below, revealing a more than 1,300-foot high ridge rising from the seafloor.
Autonomous underwater vehicles (AUVs), such as Autosub3 (and now others) are increasingly used for marine research. Developed and built at the NOC in Southampton, the sub measured 22-feet long and weighed 2.4 tons (out of the water).
Marine Technology Reporter has been commissioned to publish the Official "Oceanology International 50th Anniversary Edition" which will distribute with the MARCH 2020 edition of MTR. For information on advertising in this edition, contact Rob Howard @ howard@marinelink.com, t: +1 561-732-4368; or Mike Kozlowski @ kozlowski@marinelink.com, +1-561-733-2477.