Eco Wave Power to Set Up U.S. Office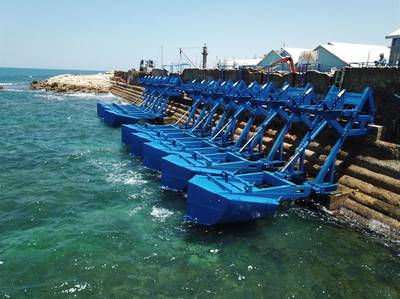 Wave power technology firm Eco Wave Power Global said Tuesday it would launch a U.S. subsidiary under the name Eco Wave Power U.S. The company also plans to establish a corporate office in New York City.
"Eco Wave Power's decision reflects its commitment to expanding its footprint and impact in the United States, an increasingly important market for renewable energy. The Company's cutting-edge wave energy technology has the potential to provide a reliable source of renewable energy to millions of people across the country's 95,000+ miles of coastline, while also contributing to the fight against climate change," Eco Wave Power said.
"The United States is a global leader in clean energy and climate initiatives, so it was extremely important for us to further develop our U.S. operations," said Inna Braverman, Eco Wave Power's Founder and CEO. "The United States is a key market for Eco Wave Power because, according to the U.S. Energy Information Association, wave energy can supply up to 66% of all the United States energy needs. Could you imagine the impact the wave energy could have in the United States?"
In January 2022, Eco Wave Power signed an agreement with AltaSea at the Port of Los Angeles to bring its wave energy technology to the AltaSea campus.
"In just over a year, Eco Wave Power has successfully modified, upgraded, and transported the conversion unit to Los Angeles and will soon begin installation on the pilot project. The speed at which the project went from concept to reality shows one of Eco Wave Power's technology's strongest assets – its mobility and scalability to fit the energy needs of any given coastline," Eco Wave Power said.
Eco Wave Power highlighted that in March 2022, New Jersey Assemblyman Robert Karabinchak introduced legislation that would require the state of New Jersey – with its 130-mile coastline – to add wave energy to the state's master energy plan and provide funding for feasibility studies and pilot programs. Additionally, in California, State Senator Steven Padilla introduced SB 605 – a bill that aims to promote and facilitate the development and growth of wave energy in the state, which will help California reach its ambitious clean energy goals. Eco Wave Power believes that California's 840-mile coastline is an ideal location to explore this virtually untapped natural resource of renewable energy.
Both bills are making progress through the various committees. A vote on New Jersey's wave energy legislation is expected in the coming weeks, Eco Wave Power Noted.
Also, the company highlighted that in August 2022, US President Joe Biden signed into law the Inflation Reduction Act, the largest piece of federal legislation ever that addresses climate change. The law will allocate $128 billion towards renewable energy and grid energy storage.
"The legislation was well-timed for Eco Wave Power. Earlier in 2022, the Company announced that it would focus on the commercialization and implementation of its technology in two main markets: Europe and the United States. The Inflation Reduction Act provides a significant investment in clean energy that could serve as a significant boost to Eco Wave Power's continued commercialization plans for the United States," the company said.
"Eco Wave Power, a worldwide leader in generating clean energy through the power of ocean waves, has successfully deployed its patented, environmentally safe technology across the globe. Currently, the Company has a 404.7 MW project pipeline, with agreements to build power stations in Spain, Turkey, Portugal, the United States, and other locations across the globe, " Eco Wave Power said.