Sea-Kit Ramps Up, Triples USV Production Capacity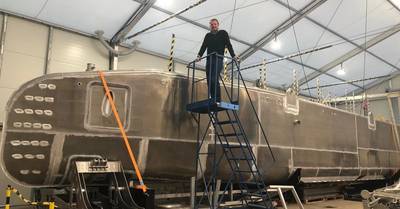 Sea-Kit International's new production facility for its larger XL-Class Uncrewed Surface Vessel (USV) is now operational, with the first 18m hull being fitted out ready for delivery this summer to Fugro.
The company off a busy 2022, delivering two more of its 12m X-Class vessels, with another two currently being built. In addition Sea-Kit debuted the XL-Class, which has three times the payload capacity, and it recently was granted patents for its X and XL-Class designs.
"It is great to go into 2023 with the new facility up and running. With the addition of this building, we have tripled production capacity and expanded our R&D area," said Ben Simpson, Sea-Kit CEO. "It gives us more, much-needed space for the ongoing development of launch and recovery systems for ROVs and AUVs, mast gondolas and sensor deployment systems, as well as enhancing manufacturing efficiencies for multiple USV builds."
Sea-Kit officially opened the new building, built alongside the company's existing base in Tollesbury, Essex, UK, on October 1, 2022.
As well as working on a burgeoning orderbook, the team will soon be preparing the company's testing and research vessel, USV Maxlimer, for her next mission. Maxlimer is back in the UK following a successful subsea volcano survey project in Tonga last August.