Rapid Reaction: Emergency Training Saves Lives
How to get out of an upturned helicopter in the sea – fast!
Based in Dartmouth, Nova Scotia, RelyOn Nutec Canada supplies a large number of services to the maritime sector ranging from strategic planning to the delivery of effective training programs. The company's products and services include training delivery and management, competence management and crisis management, providing support not only to individuals in building their career skills but also to national and multinational companies in organizing their training, competence and crisis management procedures.

Accident simulation
RelyOn Nutec Canada recently gave a demonstration of one example of its safety training expertise in a simulation of a helicopter accident at sea and the rapid reaction response that emergency response training (ERT) instills. Offshore workers, routinely transported to oil rigs and other offshore installations by helicopter, need to know what to do when their helicopter ditches into the sea and RelyOn Nutec, in association with Survival Systems Limited, has just the right facilities, equipment and personnel to show them what has to be done to ensure survival. All workers on board the helicopter must wear a survival suit designed to enable them to cope with the freezing conditions they encounter when their helicopter hits the water; they also have to be seated beside a window (standard procedure) to facilitate their escape from the craft; and the first thing they are taught is not to release their safety belt on impact, but to follow these instructions – first, plug the breathing apparatus connector from your suit into the air supply in the back of the seat in front of you; second, undo the latch on the window and throw it out into the sea; then, and only then, release your safety belt and breathing connector; and, finally, leave the (upturned) helicopter cabin through the window gap – there will be a diver outside to assist you to a life raft.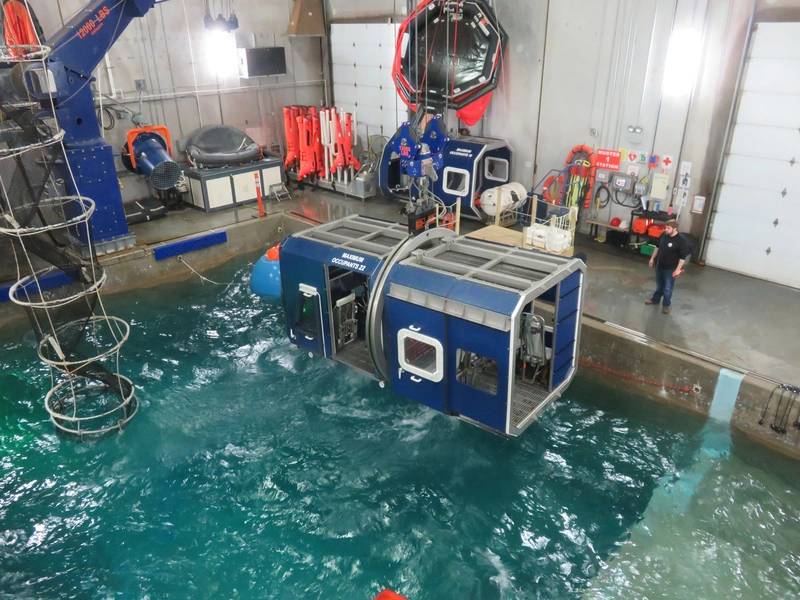 The helicopter cabin is lowered into the pool. (Photo: Tom Mulligan)The great escape!
The procedure was brilliantly demonstrated by RelyOn Nutec Canada and Survival Systems Limited at training facilities in Dartmouth in a simulation featuring a large pool and an upturned helicopter cabin with lots of noise, darkness, flashing lights, high waves, etc and a diver being sent to assist an 'offshore worker' exit the cabin in accordance with the above procedures, the whole operation taking just 30 seconds or so. Such training is absolutely essential for offshore workers and this demonstration showed just how effective it is – the accompanying photos are testament to this!

• crisis management • management • Nova Scotia