New Research Vessels Choose Scantrol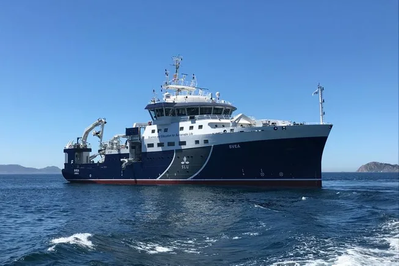 The new Swedish oceangoing research vessel R/V Svea is fully equipped with Scantrol control systems for ­­­­the electrical Ibercisa trawl and research winches onboard.
More than 30 research vessels worldwide are depoyed with Scantrol systems and an increasing number of the new vessels choose to install a combination of Scantrol iSYM Autotrawl and Scantrol Active Heave Compensation (AHC) systems.
Scantrol recently delivered a complete package of control systems to the new Swedish oceangoing research vessel R/V Svea. The vessel is especially adapted for research and environmental monitoring in the Baltic Sea, Kattegat, Skagerak and Öresund. The vessels main activity is ecosystem investigation with a focus on recurrent monitoring of fish stocks and water quality, by the Swedish University of Agricultural Sciences and Swedish Meterological and Hydrological Institute.
With Scantrol AHC the vessel can do research sampling at desired water depths even if the vessel is rolling and moving in rough sea. Scantrol AHC removes the vessel's motion from equipment deployed in the sea, enhancing the precision and data quality from subsea and sampling operations.
The AHC towing function uses the depth input from the MacArtney ROTV together with the measured vessel motion to keep the ROTV steady at desired depth in varying towing and sea conditions.
Scantrol has also supplied iSYM Autotrawl system for bottom and pelagic trawl sampling for R/V Svea. This system has interface to Simrad geometry sensor. Automatic control of trawl geometry improves the repeatability and precision of each haul. With Scantrol iSYM the operator has full control of the trawl and trawl doors. Other functionality such as Snag detector automatically detects fasteners to reduce gear damage. The Scantrol system also offers detailed datalogging for analysis and documentation of the trawl haul. iSYM Online Remote assistance can connect via the vessel's Network for assistance, software upgrades and data download.