Elon Musk Sends Submarine to Aid Thai Cave Rescue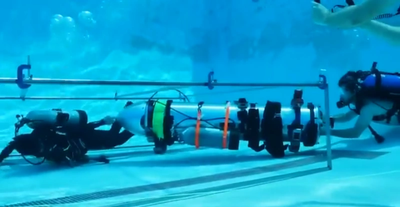 Billionaire inventor Elon Musk has sent a "kid-size submarine" to aid rescuers working to save a Thai soccer team that has been trapped in a flooded cave for more than two weeks.
A team of Thai and international divers began rescue attempts this weekend and have so far freed eight boys, while another four and their coach face their 17th night trapped on a ledge more than two miles inside the flooded Tham Luang Nang Non cave complex.
"Mini-sub arriving in about 17 hours. Hopefully useful," Musk said in a tweet Sunday. "If not, perhaps it will be in a future situation."
"Primary path is basically a tiny, kid-size submarine using the liquid oxygen transfer tube of Falcon rocket as hull. Light enough to be carried by 2 divers, small enough to get through narrow gaps. Extremely robust," Musk tweeted.
Musk later shared video of the sub being maneuvered with the assistance of two divers through an underwater obstacle course in a swimming pool.
The exercise was "simulating maneuvering through a narrow passage," Musk said.