Sonardyne's SPRINT-Nav 700 selected for new under-ice AUV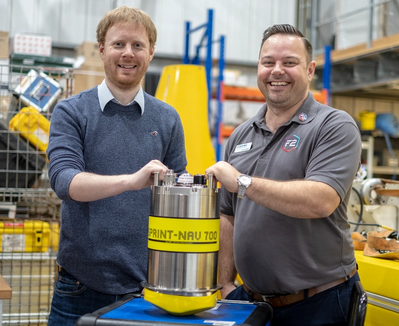 The UK's center of excellence for oceanographic sciences, the National Oceanography Center (NOC), has selected high-performance hybrid navigation technology from Sonardyne International Ltd. for the next generation of its Autosub autonomous underwater vehicle (AUV), targeted for under-ice operations.
The NOC, based in Southampton, will incorporate Sonardyne's highest performing SPRINT-Nav inertial navigation system (INS) into the new 2,000 meter depth-rated Autosub, which is being specifically developed for carrying high-performance sensors on the most demanding research missions under polar ice, hence its name Autosub2KUI, or A2KUI.
SPRINT-Nav combines Sonardyne's SPRINT INS sensor, Syrinx 600 kHz DVL and a high accuracy intelligent pressure sensor into a single housing, making it one of the smallest combined inertial navigation instruments on the market. SPRINT-Nav's tight integration of all the raw sensor data at a low level provides unprecedented navigational performance and precision for subsea vehicles. Consequently SPRINT-Nav has consistently outperformed competing systems in trials carried out for a number of customers. The SPRINT-Nav 700, selected by the NOC, is equipped with the highest performance available sensors, including Honeywell ring laser gyros and accelerometers, and has a conservative quoted accuracy of 0.04% 2dRMS (≡0.017% CEP50).
Geraint West, Global Business Manager Oceanographic, Sonardyne, says, "NOC selected SPRINT-Nav 700 to meet its requirements for an advanced dead-reckoning system in a single unit as the backbone of the A2KUI's navigation system. The capability to plug in other navigation sensors to aid the AUV's position was also critical and a second upward-looking Syrinx DVL is being incorporated to provide tracking on the underside of the ice. A2KUI will also be equipped for acoustic tracking using Sonardyne's Ranger 2 Ultra-Short BaseLine (USBL) system, which is fitted to the UK research vessels RRS James Cook, RRS Discovery and the new polar research vessel RRS Sir David Attenborough."
Dr Alex Phillips, Head of Marine Autonomous Systems Development, at the NOC, says, "The development of Autosub2KUI by the NOC builds on the successes of previous generations of Autosub, including Autosub3, which has previously penetrated up to 60km under the ice from the ice-edge. Autosub2KUI will provide the UK science community with a next generation AUV, equipped with state-of-the art sonars and camera systems to enable scientists to create detailed maps and establish habitat characteristics of the seafloor under the ice-covered polar regions.
"The missions planned for A2KUI are among the most demanding for any AUV in existence and Sonardyne's SPRINT-Nav will be fundamental to the AUV's ability to access the hostile under-ice environment in the polar regions. Gaining insights into these regions is critical to answering some of the biggest environmental scientific questions facing mankind, including climate change."
Sonardyne's relationship with the NOC extends back over more than two decades, when it started supplying the NOC's research ships with USBL acoustic tracking technology. More recently, the NOC and Sonardyne have worked together on a number of Innovate UK funded projects, with the latest being the Precise Positioning for Persistent AUVs (P3AUV) project, which is trialing new advanced navigation techniques on NOC's 'Boaty McBoatface' Autosub Long Range (ALR) and new ALR1500 vehicles. Sonardyne is a partner at the NOC's Marine Robotics Innovation Centre.
West adds, "Sonardyne is extremely pleased to continue to support the internationally important mission of the NOC. The selection of SPRINT-Nav for A2KUI is the first time that we've provided an INS system to the Autosub program and underlines its current position as the highest performing commercially available hybrid underwater navigation system available."