UTROV System Chosen Boulder & Debris Clearance at Moray West Offshore Wind Farm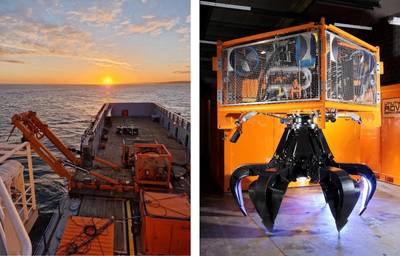 Scotland-based Utility ROV Services has won a contract for boulder and debris clearance services on the Moray West offshore wind farm in the UK.
The manufacturer/operator of the UTROV system will start offshore operations in Q1 2023.
The offshore wind farm located in the Moray Firth, with an installed capacity of 882MW, is currently in the construction phase and requires clearance of any seabed objects along the route to ensure the safe installation of the subsea infrastructure.
Developed by Oceanwinds, the EDPR-ENGIE joint-venture dedicated to offshore wind energy, the Moray West site will consist of 60 wind turbine generators, each producing 14.7 megawatts.
"The UTROV technology, developed in Scotland, having now performed similar route clearance operations on over 30 offshore wind farm projects to date, including multiple phases on the sister Ocean Winds site, Moray East, will ensure the safe and efficient relocation of boulders, and any associated debris, along the Export Cable and Array Cable Routes, as well as removing all obstacles from the WTG foundation and substation locations," Utility ROV Services said.
Utility ROV Services has chartered the Olympic Electra vessel to complete the offshore operations under the turnkey contract.
"The combination of this high-performance, diesel- electric vessel, with the robust UTROV system, will ensure productive time is maximised whilst providing a fuel-efficient platform for completing boulder relocation operations, positively impacting emission reduction targets on the project," Utility ROV Services said.
Patrick Crawford, Managing Director of Utility ROV Services, said: "The UTROV is now the benchmark technology for boulder relocation operations across the offshore energy industry. Our experienced in-house team, responsible for the continued high performance and 97% system uptime across our subsea operations, are a credit to the business. We look forward to working collaboratively with the Moray West team towards the safe delivery of this important project for Scottish offshore wind.