VIDEO: Ocean Power Technologies' WAM Vessel Attaches to Buoy for Remote Charging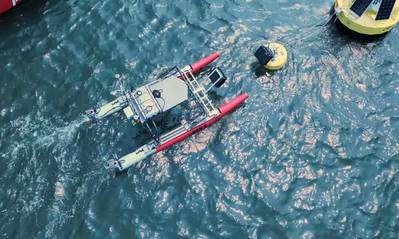 Ocean Power Technologies said Thursday it had made a pivotal achievement in the autonomous maritime technology field, by demonstrating the Wave Adaptive Modular Vessel (WAM-V) attaching itself remotely to a buoy and establishing a connection that will enable charging.
"The successful connection that will enable charging represents a significant leap forward in the integration of renewable energy sources within the maritime industry," OPT said.
OPT also released a video showing the vessel attaching itself to OPT's power buoy, also showing the charging progress.
"Our successful demonstration of a WAM-V remotely attaching itself to a buoy that will enable establishing a charging connection is a defining moment for OPT and the maritime technology sector as a whole," said Matt Burdyny, OPT's VP of Global Sales and Marketing, Matt Burdyny.
By showcasing the successful docking of the WAM-V on-water, OPT paves the way for a future where autonomous vessels can operate for extended durations, opening doors to various applications within the maritime domain, the company said.
OPT's CEO, Philipp Stratmann, expressed his enthusiasm about the achievement, stating: "This milestone propels us towards realizing a future where sustainable energy and autonomous operations integrate seamlessly."