Ancient Amphora Discovered by OceanX Handed Over to Malta's Cultural Heritage Authorities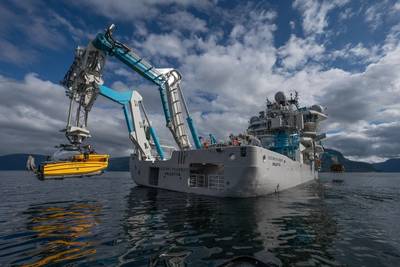 Global exploration nonprofit OceanX said this week it had delivered an ancient amphora to Maltese heritage authorities that was discovered by chance on the Mediterranean seafloor during a Remotely Operated Vehicle (ROV) dive in the summer of 2022.
"This handover is an example of a non-governmental research entity executing the delivery of a discovered artifact through the appropriate channels according to rules laid out by UNESCO," OceanX said.
A handover ceremony was held at Fort St. Angelo in Malta and attended by Dr. Owen Bonnici, The Minister for Cultural Heritage of Malta, along with representatives from OceanX, Heritage Malta, and the Superintendence of Cultural Heritage
According to OceanX, the amphora was found unexpectedly by university students participating in OceanX's flagship educational program, Young Explorers, while piloting an ROV approximately 3,510 meters below the ocean surface.
Professional ROV pilots then took over, carefully transferring the amphora from the seafloor into a replicated aquatic environment aboard OceanXplorer, the vessel described as "the most advanced marine research and media vessel ever built."
"OceanX immediately declared the amphora's discovery to authorities at the nearby port of Malta. Since then, OceanX has collaborated with heritage authorities in Malta to follow best practices to preserve, desalinate, and hand off the artifact. Following the handover, archaeologists will research the object to try to determine its role in maritime seaways of Late Antiquity," OceanX said.
"OceanX holds itself to high ethical standards and internationally recognized best practices related to the collection, preservation, and rightful ownership of historically significant artifacts," said Vincent Pieribone, Co-CEO and Chief Science Officer at OceanX. "We are especially grateful for the collaboration and guidance provided by the respected team at Heritage Malta to help us deliver the amphora to its appropriate jurisdiction with care and according to standards. We look forward to the artifact being fully restored, preserved, and researched for the whole world to see and learn about."
This collaboration between OceanX and the Republic of Malta represents a significant development for international cooperation around scientific research and the respect for authenticity and integrity of cultural objects as laid out in the 2001 UNESCO Convention on the Protection of the Underwater Cultural Heritage,OceanX said.
"The handing over of the amphora by OceanX to Malta is an excellent example of best practice in the area of underwater cultural heritage and its management. This object will now be available for students and experts to study so as to continue to shed light on the maritime past of the ancient Mediterranean," said Dr. Timmy Gambin, Professor of Maritime Archeology at the University of Malta.