Saab Announces US Licensing Agreement for Long-Range AUV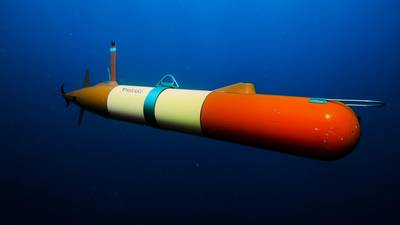 Saab announces a new commercial licensing agreement with the Monterey Bay Aquarium Research Institute (MBARI) to bring their Long-Range Autonomous Underwater Vehicle (LRAUV) to the US market under the name Tethys. Saab will domestically produce and offer the Tethys vehicle for the oceanographic research, commercial, and defense markets.
Tethys is an field-ready vehicle capable of travelling more than a thousand kilometers for weeks at a time. MBARI developed this now mature technology over the past decade to better explore, map, and monitor the ocean.
Tethys's low-power transit mode and over-the-horizon, internet-based remote control allows users to launch the vehicles from shore and conduct sophisticated missions at remote locations without a support ship. With a track record of over 40,000 operational at-sea hours logged on MBARI's LRAUV fleet, this 12-inch diameter AUV can dive up to 1,500 meters below the surface and is capable of larger, more powerful payloads than oceanographic gliders. The platform has demonstrated remarkable mission capabilities, such as sampling environmental DNA, observing and tracking deep-sea animals, and mapping the seafloor at centimeter-scale resolution.
Tethys can be tailored to satisfy a broad range of subsea missions and requirements, including military applications such as intelligence, surveillance, & reconnaissance and anti-submarine warfare, as well as scientific applications such as oceanographic research and environmental monitoring. Tethys can be outfitted with a variety of payloads, including microbial sampling (environmental DNA or eDNA), bioluminescence, active bio-acoustic imaging, water sam­pling, plankton imaging, and multi-beam mapping.
"Much more than a vehicle, Tethys (MBARI LRAUV) is an interactive tech ecosystem capable of taking the lab into the ocean and collecting data in real-time to help inform decision-making on everything from oil spills to toxic algae blooms to the discovery of marine species never observed before. We're thrilled that this technology will finally be made more broadly available, and we look forward to working with the team at Saab," said Brett Hobson, MBARI LRAUV Project Manager.