US Announces $19 Million to Tackle Marine Debris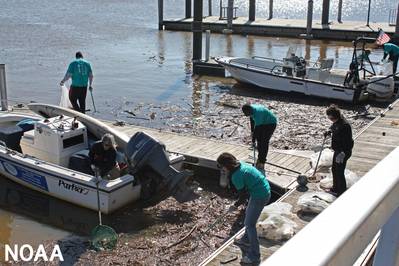 The U.S. Department of Commerce's NOAA Sea Grant College Program announced the availability of approximately $19 million in federal funding opportunities to combat marine debris in coastal communities as part of President Biden's Investing in America agenda, under the Bipartisan Infrastructure Law. These funding opportunities will allow NOAA to help coastal communities prevent and remove marine debris.
"Marine debris degrades water quality, harms habitats and ecosystems and hurts coastal workers and businesses," said Secretary of Commerce Gina Raimondo. "These funding opportunities, part of President Biden's Investing in America agenda, which is a key pillar of Bidenomics, will help us tackle the challenges of marine debris head on, helping to restore and protect our coastal marine environments and the communities that rely on them."
The two funding opportunities are:
The Marine Debris Challenge Competition. The Challenge will include approximately $16 million in funding available to support innovative, transformational research-to-application projects that will address the prevention and removal of marine debris, with award periods of three years. This opportunity is open to any person or group within the United States or its territories, as well as tribal nations within those geographies. Applicants must submit proposals in partnership with a relevant Sea Grant Program, though it is not a requirement that investigators, including the principal investigator, be part of a Sea Grant program.
The Marine Debris Community Action Coalitions Opportunity. This Community Action funding will include approximately $3 million in funding available to support the creation of coalitions and partnerships to address marine debris prevention and removal. Applications for this opportunity must be submitted through a Sea Grant Program, and partnerships are encouraged.
"Through the Challenge funding opportunity, we will support innovative research that can readily and immediately be applied to prevent and remove marine debris," said Steve Thur, Ph.D., NOAA assistant administrator for Oceanic and Atmospheric Research. "The goal is that the techniques developed by these awards can be broadly applied to locations around the country, multiplying the environmental and economic impacts of the funding well beyond marine debris removal at a single site."
"With the Community Action funding, we are seeking proposals that will bring community groups together with the resources needed to tackle marine debris prevention and removal," said Jonathan Pennock, director of NOAA's National Sea Grant College Program. "The heaviest costs of marine debris pollution fall on those who have the least ability and resources to address it. This funding opportunity is designed to bring more people together with the resources to tackle, prevent and remove marine debris from our coastal communities."
The funding opportunities are a component of nearly $3 billion in targeted investments by NOAA in the areas of habitat restoration, coastal resilience and weather forecasting infrastructure through the Bipartisan Infrastructure Law.
Letters of intent and applications for both opportunities must be submitted through a Sea Grant Program. Interested partners should contact one or more of the 34 Sea Grant Programs for partnership information.
NOAA said applicants to both opportunities are encouraged to draft work proposals that support the principles of justice, equity, diversity, inclusion and accessibility, as well as place an emphasis on engagement with communities, groups and localities, especially those that have been traditionally underrepresented and underserved.