Argeo Elevates its Game with Argeo Searcher Vessel Upgrade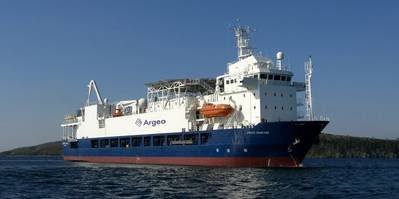 Oslo-listed offshore service company Argeo said Friday it would upgrade its subsea vessel, Argeo Searcher, to expand its capabilities for the oil and gas subsea market and marine minerals seabed exploration.
"The vessel upgrade will be carried out at Fjellstrand, a company with a solid track record and experience in this type of projects. The work will be carried out in October 2023 and is fully financed by the vessel owner. After completion, the Argeo Searcher will be a true multipurpose inspection, maintenance, and repair (IMR), greenfield survey vessel, and mineral exploration vessel," Argeo said.
"With the expansive market and strong demand for deep-water subsea vessels and equipment our clients have requested additional capability. This upgrade is a response to this, and we confirm both secured backlog and further new projects as a result of this strong move in capacity. Argeo Searcher will commence operations immediately after completing the yard stay," the company said.
New AUVs

The upgraded Argeo Searcher vessel will be equipped with the recently purchased Hugin Superior Autonomous Underwater Vehicles (AUVs), boosting operational capacity and productivity.
"By incorporating the advanced Hugin Superior AUV, featuring exceptional sensor payloads, into the Argeo Searcher, along with our proprietary electromagnetic sensor systems, we will achieve unprecedented deep-water data acquisition and interpretation capabilities, propelling us ahead of the competition," says Argeo CEO, Trond F Crantz.

"The Hugin Superior offers unique capabilities and productivity enhancements through its extended coverage and long-range sensors. Argeo's AUV fleet is now one of the world's most advanced, seamlessly integrated with Argeo Robotics' patented electromagnetic Argeo LISTEN™ and Argeo WHISPER™ sensor systems," Argeo said.
The upgrade includes the following key enhancements:
• Work Class ROV System.
• 20t Active Heave Compensated (AHC) Offshore Crane
• 20t Active Heave Compensated (AHC) 3000m Winch System
• 36t A-Frame
• Hugin Superior Integration with full onboard data processing
• Remote operations and USV Force-Multiplier capability
• Extended free deck space to 200m2