Colette Cohen to Step Down as CEO of Net Zero Technology Centre. Myrtle Dawes to Take Over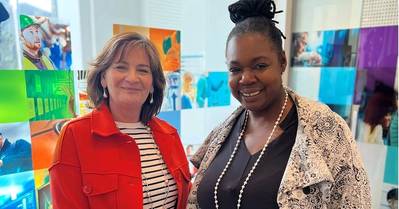 Colette Cohen OBE is standing down as CEO of the UK-based Net Zero Technology Centre (NZTC). Myrtle Dawes has been announced as NZTC new CEO.
Colette Cohen launched the center, then known as the Oil and Gas Technology Centre, in 2017.
Created as part of the Aberdeen City Region Deal, with £180 million of UK and Scottish government funding, the center has co-invested more than £253 million with industry in technologies from effective well plugging and abandonment, asset integrity to autonomous robotics and renewable power systems. It has screened over 1,810+ new technologies, progressed 175 field trials, and helped over 33 technologies to commercialize, according to NZTC's press release issued Thursday.
Under Colette, the center has supported "a thriving start-up ecosystem."
"Through its TechX Accelerator program, 45 tech start-ups have been supported, with TechX Pioneers raising over £75M in equity since graduating the program," NZTC said.
NZTC Chairman, Martin Gilbert said: "In an industry that is traditionally slow to change and considerably risk averse when it comes to adopting new technology, Colette had a monumental task on her hands to shape an offering from the Net Zero Technology Centre that industry would buy-in to and advocate.
"A champion for diversity and inclusion, Colette is a formidable leader ensuring the Centre remained relevant as the global focus increased on cutting emissions and low carbon technology. She continued to evolve the businesses strategy and position it for growth and is handing over the reins at an exciting time for the centre. On behalf of the board, I thank her for her drive and commitment."
Myrtle Dawes will assume the position as CEO in July 2023. Myrtle joined NZTC in 2019 as Solution Centre Director, leading the delivery of technology development and deployment, and project growth strategies.
Colette Cohen said: "I have relished every minute of my nearly seven years at NZTC and am tremendously proud of the impact the Centre has made, and continues to make, on the technology landscape in the North East of Scotland and throughout the UK.
"I have built a team focused on delivery and we've turned our technology vision into reality, propelling technologies from development to commercialization and making a demonstrable impact in the offshore energy sector. It's time for me to step back, enjoy some downtime with my family and focus on my work with other Boards, accelerating the energy transition and building the next generation of female leaders.
"The energy transition and technology are two constantly moving targets and there is still so much untapped opportunity, this requires a strong proven leader and I am delighted to be handing the reins to Myrtle who will take the Centre to its next level of success".
Myrtle Dawes, CEO (designate), said: "I am honored to be appointed CEO at such a pivotal time for both the energy industry and NZTC, and excited to take the Centre forward and achieve even more."