Construction Starts on First UK-German Power Link Project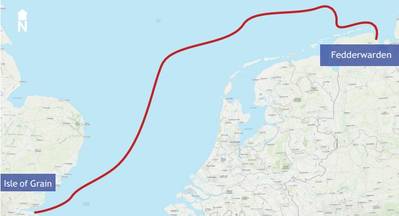 Work has begun on a 2.4 billion pound (2.8 billion euro) project to build the first power cable linking Britain and Germany, said NeuConnect Interconnector, which is leading the move to connect two of Europe's largest energy markets for the first time.
The new energy link will extend over 725 kilometres (450 miles) in length, mostly under the sea, and will be one of the world's largest interconnector projects.
The cables could transfer up to 1.4 gigawatts (GW) of electricity to flow in either direction between Britain and Germany, NeuConnect said in a statement on Wednesday.
The project will help boost energy security as Europe seeks alternatives to Russian pipeline gas following Moscow's invasion of Ukraine.
"NeuConnect is a key project to support Germany and the UK in achieving their climate targets and to boost energy security," said Miguel Berger, the German ambassador to the UK.
"It is the largest Anglo-German infrastructure project and will enable us to share excess power – preventing renewable energy from being wasted."
The project is financed by France's Meridiam, Germany's Allianz Capital Partners and Japan's Kansai Electric Power with a consortium of more than 20 banks and financial institutions, including the UK Infrastructure Bank and the European Investment Bank.
NeuConnect, which obtained the financial green light in July 2022, will construct new converter stations on the Isle of Grain, in south east England, and the Wilhelmshaven region, in Lower Saxony, northern Germany, connected by subsea cables travelling through British, Dutch, and German waters.
The project is expected to be operational by 2028.
(Reuters - Reporting by Marwa Rashad; Editing by Mike Harrison)