EIVA Containerized ROTV to the Royal Navy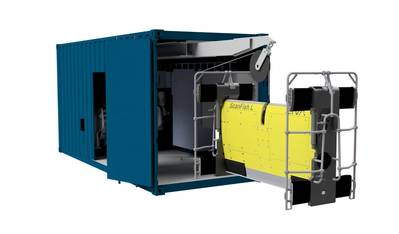 EIVA a/s was awarded a contract by the UK Ministry of Defence (MOD) with a total value of approximately $4 million to deliver a containerised remotely operated towed vehicle (ROTV) solution displaying data in NaviSuite software.
When delivered, the ROTV, an EIVA ScanFish L, will be integrated into the Royal Navy's seabed warfare system of systems. Capable of operating from different host platforms, this system will enable the simultaneous operation of multiple acoustic survey sensors and instruments.
Able to operate beyond the continental shelf the containerised ROTV solution provided by EIVA will be capable of performing various functions, including but not limited to:
Pipeline inspection
Large area searches and mine countermeasure (MCM) operations
Site surveys and seabed mapping
Cable route surveys
High-resolution object detection
Oceanographic data collection through the water column
As part of the contract, EIVA will deliver a fully equipped 20-ft. cube container module and launch and recovery system, supplied by SH Defence, part of SH Group. The ScanFish L ROTV will be equipped with multiple sensors, including but not limited to Sonardyne's SPRINT-Nav Mini hybrid INS/DVL and Voyis' Observer Pro optical camera and Insight Pro laser scanner. The system will benefit from EIVA's NaviSuite software for efficiently processing and analysing the collected data, enhancing users'. Moreover, the presence of two dedicated workstations within the container will ensure the system's full operational capability and independence of employment, as there is no need to be plugged into the military ship Command & Control (C2) system.