Dauphin Island Sea Lab Opens Water-based Research Facility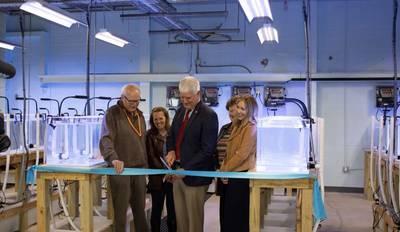 The Dauphin Island Sea Lab (DISL) announced the recent completion of its newest research facility- a multi-stressor wet lab.
A ribbon-cutting ceremony for the new multi-stressor wet lab was held on Monday, January 23, 2023, with U.S. Treasury Department representative Dr. Bridget Cotti-Rausch, Alabama State Senator David Sessions (R-Grand Bay), and Dr. Amy Hunter with the Alabama Department of Conservation and Natural Resources (ADCNR).
In this new facility, researchers will be able to examine how marine organisms respond to multiple changes in environmental conditions simultaneously. These conditions include oxygen pH, salinity, and temperature. In comparison, most research wet labs only allow a researcher to examine the impact of one stressor at a time and establish a threshold for a single environmental change. However, this new multi-stressor lab at DISL will allow researchers to examine how one environmental change could be impacted by another at the same time.
"This could be called a time machine, because we will be able to expose marine organisms to future conditions of varying levels," DISL Senior Marine Scientist Dr. John Lehrter explains. "When you start to expose animals to multiple stresses, the threshold identified for one stress may change based on the combination of stresses exposed at one time."
"We're going to have nutrient loading and we're going to have warmer temperatures and we don't know the consequences of those factors with our existing stressors to drive the productivity of the Gulf of Mexico," DISL's Executive Director Dr. John Valentine expressed during the ribbon cutting of the new facility. "We're now set to do cutting-edge research that has global significance too."
The DISL campus was built from a repurposed U.S. Air Force base, and the wet lab has given new life to the facility's original generator building.
"Giving a nod to the fiscal stewardship of DISL, we were able to take an existing campus asset, and with support from the Alabama Legislature, transform it into a state-of-the-art research facility that will provide students, faculty, and researchers from the Marine Environmental Sciences Consortium with opportunities not found anywhere else," says Valentine.
Dr. Hunter with ADCNR commented on the transformation during the ribbon cutting, "This is exciting for the Sea Lab, for the Gulf Coast, and just for me personally as a former student and graduate of the Sea Lab to see what this used to be, which was when I was here an old storage facility to turn into this state of the art, multi stressor facility, that can really let us know what's going on here in our backyard."
Additional funding was provided by the U.S. Department of Treasury/Alabama Department of Conservation and Natural Resources Centers of Excellence Program under the Resources and Ecosystem Sustainability, Tourist Opportunities, and Revived Economies of the Gulf States Act, also known as the RESTORE ACT, signed on July 6, 2012.
Initially, the new wet lab will be instrumental for research projects funded through the Alabama Center of Excellence but will be available to researchers throughout the 22 Colleges and Universities that comprise the Marine Environmental Sciences Consortium in the near future.
Some of the first projects that will utilize the lab include the impact of water quality changes on phytoplankton productivity and understanding what changes impact oyster recruitment in Alabama's Coastal Waters. These are two projects funded by the Alabama Center of Excellence.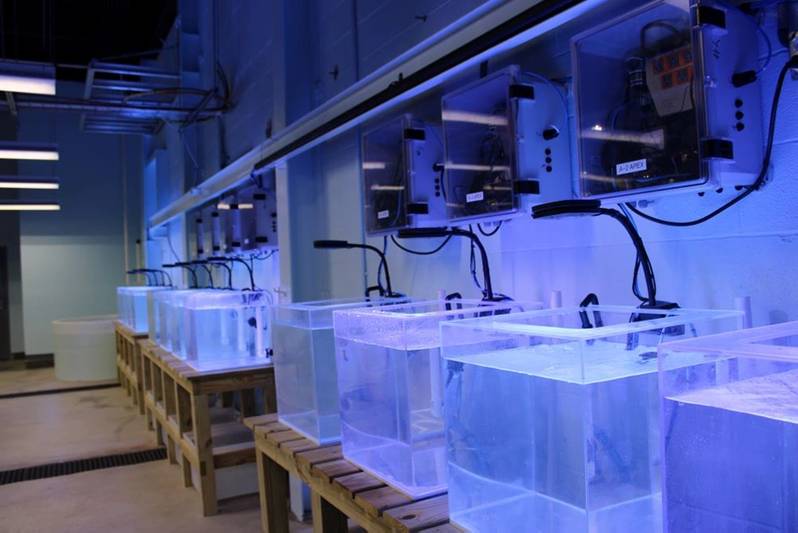 Image courtesy The Dauphin Island Sea Lab