DeepOcean Bags Post-Lay Trenching Works Offshore Mexico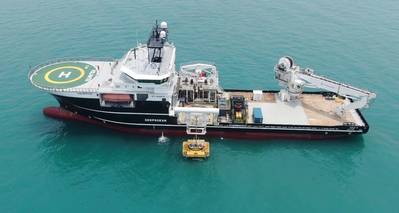 Offshore services company DeepOcean has won a contract to provide post-lay trenching works on 30 kilometers of pipeline offshore Mexico.
DeepOcean will execute the post-lay trenching works from the M/S Volantis subsea construction vessel, which is equipped DeepOcean's high powered jet trencher UT-1.
According to DeepOcean, the jet trencher UT-1 has so far completed over 2,200 km of subsea trenching for cables and pipelines up to 46-inch in diameter.
The 2,800hp UT-1 has achieved trench depths across the globe to 3 meters in various soil conditions in excess of 100KPa. The trencher is also capable of carrying out backfill operations to assist in further product protection.
The Volantis is on charter from Volstad Maritime. The vessel was mobilized from Norway after the completion of an extensive vessel upgrade, which included the installation of batteries to reduce fuel consumption and emissions in line with DeepOcean's commitment to reduce CO2 emissions by 45% by 2030.
DeepOcean has not disclosed the value of the latest contract or the name of the client.