EODEX UK Clears 80+ Munitions at Offshore Wind Farm Site Quietly and without Explosions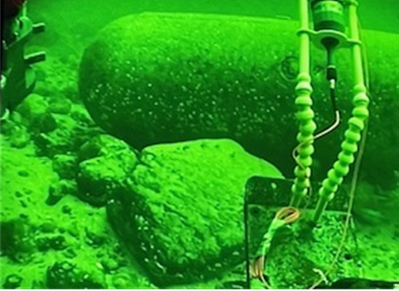 Offshore disposal firm EODEX UK has informed that it has removed over 80 offshore munitions from the Moray Firth without high-order detonations.
According to EODEX UK, detonations are widely attributed to be a key factor in mass stranding events – such as the Kyle of Durness in July 2011, where 19 long-finned pilot whales died in distressing circumstances.
The explosives at the Moray Firth were cleared using a low-order deflagration technique, in partnership with Alford Technologies, with a overwhelming 100% success rate.
"Low-order deflagration neutralizes the munition by 'burning out' the explosive contents, avoiding dramatic noise and shock waves, which historically have caused widespread destruction to marine habitats as far as 35km from the detonation site," EODEX UK said.
EODEX UK said it had completed the operation, which it dubbed a 'historic' one, for the Moray West offshore wind farm clearing over 80 confirmed unexploded items of ordnance in the Moray Firth, "making this the largest collection of munitions successfully dealt with on a single wind farm development."
Operations began in January and ran through until September, with the cleared Unexploded Ordnance (UXO) items including a large number of Naval projectiles, anti-submarine weapons, influence sea mines, and air-dropped weapons (bombs). The Naval projectiles ranged from 4.5 – 15 inch, one of which was date stamped 11.10.1915. The airdropped weapons encountered were from both World Wars and the Sea Mines most likely World War 2. Of particular note was the successful clearance of a 2,200lb LMB (Luftmine B) aluminum-cased Sea Mine. Evidence suggests this was the first instance of such a device being cleared commercially using low-order deflagration.
"Independent noise monitoring carried out on the first 30 clearances revealed that the low order deflagration technique was quieter than anticipated, delivering environmental results that exceeded expectations. All scrap debris and waste was safely removed from the seabed without trace of explosive residue left behind. Post-site analysis at each of the target locations revealed no damage to the seabed in the form of cratering," EODEX UK said.
The Moray West project is being developed by Ocean Winds, a 50/50 joint venture between ENGIE and EDP Renewables.