Geoscience Software Gift to University of Malaya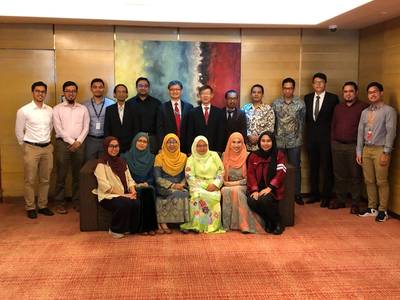 GeoSoftware, part of CGG's Geoscience division, has donated twenty of its advanced geoscience software suites to the University of Malaya (UM) in Malaysia.
The initiative will enrich the student experience at UM's Department of Geology while supporting its mission to train world-class professionals for domestic or international careers in petroleum geosciences.
The software will be used to teach quantitative seismic interpretation within the Exploration Geophysics module of the Department's Master of Petroleum Geoscience program. It will also be used by undergraduates for final-year projects as well as MSc and PhD postgraduate students and lecturers for conducting and publishing high-quality research focusing on reservoir characterization and quantitative interpretation for exploration and exploitation of reserves.
UM's Deputy Vice-Chancellor (Research & Innovation), Professor Dr. Noorsaadah Abd. Rahman, said "The donation will be of great benefit to students, particularly those doing their postgraduate research (PhD & MSc) and students in the Master of Petroleum Geoscience Program. Undergraduate students in Geology doing their final-year project will also benefit from this software. We would like to thank CGG GeoSoftware for this contribution to our University and hope that the relationship between CGG and UM will continue to grow and strengthen with time."