Kraken's OceanVision Moving Ahead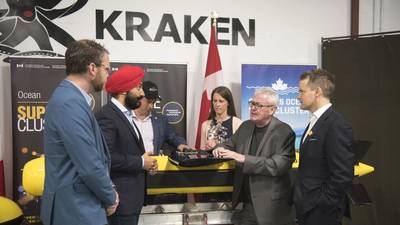 Kraken Robotics' OceanVision marine technology development project will move forward with conditional approval – and millions in funding – from Canada's Ocean Supercluster.
The three-year, $20 million project is being spearheaded by Kraken subsidiary Kraken Robotic Systems and is focused on the development of new technologies and products to enable an underwater robotics data acquisition and data analytics as a turnkey service solution for ultra-high definition seafloor imaging, mapping and analytics, including simultaneous acquisition of ocean environmental and marine habitat data.
In a big boost for the project, it was recently announced that the initiative will receive up to $5.9 million from the Ocean Supercluster, subject to, among other things, finalizing additional project funding from industry stakeholders, strategic partners and government agencies.
Kraken, which is aiming to complete the contracting process with all project participants by the end of the third quarter of 2019, has said it believes the project could grow as additional stakeholders, technologies and products are added to the project scope.
Karl Kenny, Kraken's President & CEO said, "OceanVision is a unique business model, offering a combination of sensors, underwater robots, cloud computing and artificial intelligence. Under OceanVision, clients do not need to purchase expensive data acquisition hardware and analytics. Instead, they can lease the robotic devices to acquire the ultra-high-resolution subsea data that they need. The data captured by robots across different locations can be stored in a cloud-based system and accessed by humans."
"This will ensure seamless data access without disrupting the existing workflow. Customers can leverage robots to engage their resources into more human-intensive processes such as decision-making and processes requiring more analytical thinking. While OceanVision is still in an embryonic stage of development, it is already driving exciting domestic and international opportunities. With a growing focus on productivity challenges and a deep understanding of the operational environment, we expect OceanVision will help accelerate innovation and disrupt antiquated business models in many industries across the ocean technology community," Kennny said.
"This is a big step in our journey to sustainably grow Canada's ocean economy through collaboration," said Kendra MacDonald, CEO, Ocean Supercluster. "This project embodies what the Ocean Supercluster seeks to accomplish in the sustainable development of Canada's ocean economy, bringing together multiple partners across different ocean industries to collaborate and strengthen the Canadian ocean supply chain. This is a level of synergy we haven't seen before now, and it demonstrates that if we work together to leverage our collective expertise, we can transform Canada into a global hub for collaborative cross-sectoral ocean innovation."
The OceanVision project is based on several enabling technologies, including unmanned maritime vehicles, advanced sensors, robotics, autonomous systems, big data machine learning and predictive analytics. Its target end result is an end-to-end digitalization solution offering advanced sensors, robots and data analytics as a turnkey service solution for seafloor imaging and mapping. Rapid high-throughput data analytics will make it possible to significantly reduce the cost of obtaining high resolution seafloor imaging and mapping allowing end-users to make more informed operational decisions in real-time.
Kraken said the new technologies to be developed within the scope of the OceanVision project are currently unavailable in a fully matured and tightly integrated offering in the commercial industry. The combination of a hovering-capable autonomous underwater vehicle (AUV) with the potential for subsea residency, and a cutting-edge suite of acoustic and optical sensors, is a powerful package. As Kraken is the manufacturer of all the major vehicle components (i.e., sensors, batteries, propulsion system and software), it is expected that Kraken's robotics platforms and services can be provided at a much lower overall cost than competing systems.
For industry users, such as the oil and gas industry, OceanVision will help them reduce costs and risks, receive better intelligence and improve safety. This will be done by providing access to innovative technology that can reduce inspection, maintenance and repair (IMR) costs, improve operator safety and allow for increased uptime and profits, Kraken said.
Alan Clarke, CEO, Petroleum Research Newfoundland and Labrador (PRNL), said, "This project has the potential to significantly advance our capability to acquire high quality ocean information to support multiple ocean industries, including offshore oil and gas. We are excited to once again be working with Kraken, and now the Ocean Supercluster and other industry partners to realize the full potential of this project."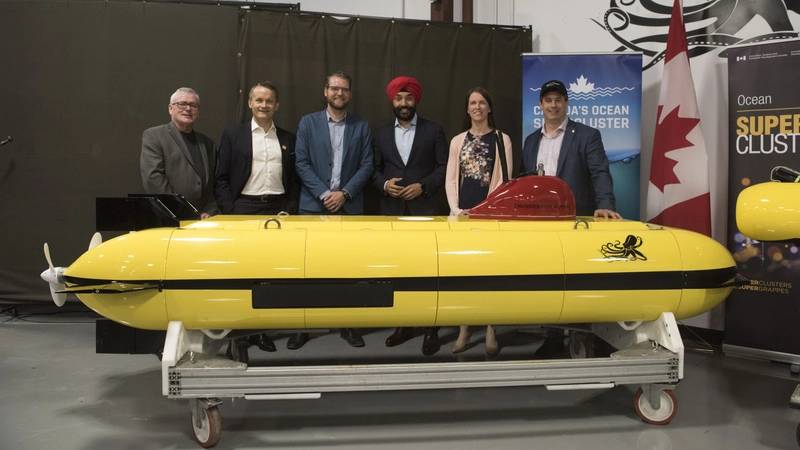 (Photo: Andrew Edwards, Kraken Robotics)

• artificial intelligence • autonomous systems • Canada