MacArtney Equips North Sea Cable Layer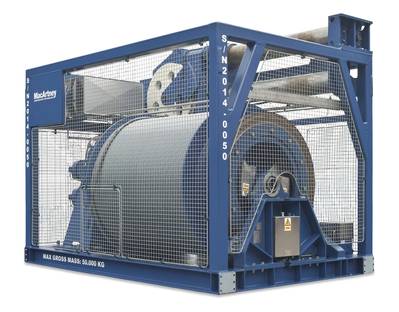 A specialized winch system aboard the ASN Ile de Class cable laying vessel will facilitate the laying of seismic cables on the seabed of the Johan Castberg oilfield in the Barents Sea for Equinor's new permanent reservoir monitoring system.
MacArtney's MERMAC R40 active heave compensated (AHC) winch purchased by Alcatel Submarine Networks (ASN), part of the Nokia Corporation, will be utilized aboard the vessel in the laying of seismic cabling and sensors that will be permanently deployed on the Barents' seabed to enable more frequent and improved 4D seismic interpretation of the subsurface.
The AHC works to reduce the influence of wave movement on the touchdown monitoring system and enables it to accurately lay the seismic cables and sensors in the correct position on the seabed.
This MERMAC R40 AHC winch, engineered for offshore work in weather conditions of minimum Hs (Significant Wave Height) of 3 meters during launch, recovery and operations is of compact design and fitted with a right angle level wind. The winch is supplied with a Moog Focal combined Electro Optical Slip Ring. The winch is umbilical compatible and fitted with slip ring and joint box suitable for single mode fiber optics.