KTG Partners with Leonardo on K50 Capabilities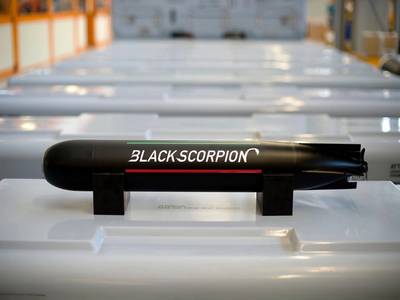 Kraken Technology Group (KTG) signed a partnership agreement with Leonardo, a partnership that reflects several areas of collaboration and development starting with the integration of Leonardo's Black Scorpion mini-torpedo system into the K50 KRAKEN platform to enhance its sub-surface domain capability.
The collaboration continues with the opportunity to integrate a broader range of Leonardo systems into future Kraken platforms, including LIONFISH to provide defence and Anti-Surface Warfare (ASuW) capability.
The K50 KRAKEN is a fully-integrated, maritime precision engagement fast-boat platform, designed to provide effective swarmed-strike response to littoral water threats. The K50 is heavily weaponized, combining the latest defense and maritime technologies to best effect in the protection of sovereign green-water infrastructure and interests. Additional Kraken platforms are under development and will benefit from the forward looking nature of this agreement.
The Black Scorpion is designed to facilitate the engagement of sub-surface threats in challenging operational scenarios, while LIONFISH is Leonardo's lightweight and compact new family of small calibre naval turrets, usable in a broad set of applications and available in both 12.7mm and 20mm versions.