NOAA Releases 2018 Hydrographic Survey Plans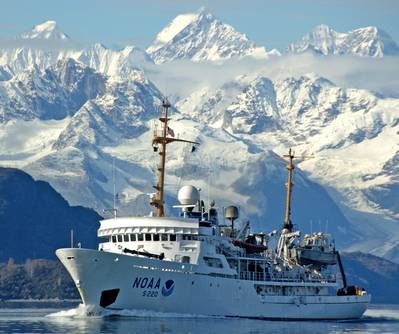 Beginning in April, NOAA's four hydrographic survey ships – Thomas Jefferson, Ferdinand Hassler, Rainier and Fairweather – will set out along with private contractors to tackle their assigned survey projects over the course of the 2018 field season.
Below are NOAA's priority areas for planned survey projects 2018:
Alaska
North Coast of Kodiak Island – Last surveyed in 1932, this survey project focuses on areas inadequate for safe navigation, particularly along the corridor of vessel traffic transiting from Kodiak.

West of Prince of Wales Island – These complex waterways are critical to the economic success of local coastal communities on Prince of Wales Island. This survey project updates previous surveys dating back to 1916.

Tracy Arm Fjord – Frequently visited by cruise ships and tourist vessels, modern surveys will increase maritime safety and address the needs of the maritime pilot community.

Lisianski Strait and Inlet – This navigationally complex area experiences a large volume of marine traffic, with the vast majority of the inlet last surveyed in 1917. This project provides contemporary surveys for the area.

Southwest Alaskan Peninsula – This survey project updates nautical charting products to support the increase in vessel traffic in Unimak Passage. Fishing fleets in Bristol Bay and Bering Sea frequent this area.

Morzhovoi Bay – With parts of the bay last surveyed in the 1920s and 1950s, this survey project focuses on areas inadequate for safe navigation.

Point Hope and Vicinity – Vessel traffic is increasing each year as sea ice recedes. Seventy percent of the area remains unsurveyed.
Pacific Coast and Puget Sound
Puget Sound, Wash. –This moderate to high traffic density area includes several ferry routes. Current surveys of the area consist of partial bottom coverage and in some areas, lesser coverage.

Channel Islands and Vicinity, Calif. – This survey project provides data for crucial nautical chart updates and also generates backscatter data used in habitat mapping in the Channel Islands National Marine Sanctuary.
Gulf of Mexico and Mississippi River
Chandeleur, La. – This survey area includes active oil and gas exploration areas and future state-leasing waters and is also shoaler than 20 fathoms throughout. This survey will identify hazards and changes in bathymetry.

Mississippi River, La. – The ports of the southern Mississippi River represent the largest part complex in the world and one of the most heavily trafficked waterways in the United States. This survey project supports new, high-resolution charting products for maritime commerce.

Louisiana Coast – This survey project addresses concerns of migrating shoals and exposed hazards in the vicinity of the Atchafalaya River Delta and Port of Morgan City.

Approaches to Houston, Texas – The current chart coverage of the area between Galveston Bay and Sabine Bank Channels shows numerous reported wrecks and obstructions. This survey will identify changes to the bathymetry and resolve position uncertainty in known hazards.

Florida Keys National Marine Sanctuary, Fla. – This survey project provides updates to nautical charting products of the area and supports marine habitat research projects through the National Center for Coastal Ocean Science and the Office of National Marine Sanctuaries.
Atlantic Coast and Puerto Rico
Approaches to Chesapeake Bay – This multi-year survey covers the approaches to Chesapeake Bay to support the safety of commerce and monitor the environmental health of the region.
Approaches to Jacksonville, Fla. – The Port of Jacksonville entrance channel is in need of updated charts to meet the needs of larger ships.
Puerto Rico – NOAA will return to the island of Puerto Rico and conduct surveys to update the nautical charts in critical need of revisions following Hurricane Maria.
• Alaska • Bering Sea • Bristol Bay