Silicon Sensing Unveils New MEMS IMU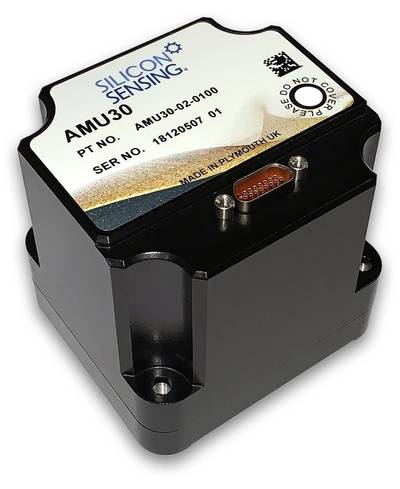 Silicon Sensing Systems will launch a new high performance all-MEMS inertial measurement unit (IMU), AMU30, at Sensors Expo this month.
AMU30 is the company's first IMU to combine high performance motion sensing with full attitude and heading reference system (AHRS) capabilities.
Based upon the DMU30, the AMU30 is designed to respond to growing demand for a tactical grade, non-ITAR (International Traffic in Arms Regulations) IMU that also outputs pitch, roll and heading data. The AMU30 is a micro electro-mechanical system (MEMS) product offering a real alternative to heavier, larger and more costly fibre optic gyro-based devices. It delivers all-MEMS inertial performance, including bias stability and low noise characteristics, while having the benefit of an embedded Kalman Filter based AHRS algorithm.
AMU30 comprises a 10 degree-of-freedom IMU with a three-axis magnetometer, pressure sensor and a sophisticated AHRS algorithm. A unique multi-MEMS architecture blends the inputs from dual independent MEMS sensing elements on each axis to deliver precise three-axis outputs of angular rate and acceleration, plus roll, pitch and heading angles, altitude and pressure, and temperature, at 200Hz. Performance is optimized through calibration over the full operational temperature range.