SISTAC: Brazil´s Homegrown Subsea Service Provider
Sistac is an established local offshore service provider in two subsea areas (ROV and Diving), along with its distinguished position as a pioneer in rope access services, which only enhances their value and importance to the national offshore growth effort. Marine Technology Reporter spoke to Felipe Gutterres, CEO of Sistac about is history and operations in Brazil.
Gutterres joined Sistac in 2016. He is the former CFO, Investor Relations Director and International Board Member of Wilson Sons Limited – one of the largest listed port and maritime logistics providers in Brazil – where he held his first position as Investment Manager in 1998. From 1994 to 1998, he served as planning and finance executive at Shell Brasil. Gutterres holds a diploma in General Management from Harvard Business School, a MBA from COPPEAD, and graduation in Economics from UFRJ. "I saw a lot of potential in the company, good and engaged people, good assets, good positioning and with possibilities growth in a challenging market. I quickly learned that Sistac is composed of adventure professionals, with divers and climbers and I identified with that. I am motivated by challenges and by actions that can have a positive impact on people and on the society," said Gutterres.
istac is a leading player in offshore oil and gas IMR services in Brazil. Founded by a former saturation diver, Mario Gonçalves (currently board member of the company), who had been operating in the oil and gas industry since 1979. Headquartered in Niteroi, the company has its operational sites in Itaboraí and Macaé, both Northeast of the city of Rio and its own shipyard in Angra dos Reis on the South Coast (where its vessels were built). Sistac was founded in 1995, by Mr. Gonçalves, in the search for alternatives to improve IMR in the country. That same year, Sistac had already innovated in the market by making demonstrations of services to Petrobras using the Industrial Climbing technique, in addition to bringing the recently launched welding inspection technique by ACFM (Alternated Current Field Measurement).
In 2005, the company innovated once again and pioneered in Brazil by performing submerged repairs for Petrobras, without interrupting production. The projects did not stop there. In 2009, Sistac built an offshore support vessel for diving operations. The project was a success and in 2015 the company's most modern vessel, Sistac Vitória was launched. That project was a great solution to meet Petrobras` needs in several ways: with the support of the vessels, it was no longer necessary to take up space on the platforms to house equipment or employees. The history of Sistac was marked by entrepreneurship and innovation that their founder imprinted very successfully in the company's DNA, in the course of Sistac`s 21 years.
In 2017, Sistac concluded a dive contract to support pull-in / pull-out operations on Modec's MV-26 FPSO. It is a relevant contract, with a duration of approximately 30 days, and it meant winning over important competitors who had current contracts with Modec. Sistac has a long history of diving and ROV operations with Petrobras and also significant operations with Chevron. "We have five pillars that are the basis of the company and will guide all our actions in the next years. They are: security, commercial courage, efficiency, financial solidity and professionalism. To provide engineering solutions in inspection, and subsea maintenance and repair in the offshore oil and gas in Brazil, seeking the integrity and life of our customers' assets, through security, quality, sustainability, ethics and high commitment from our employees, operations and businesses. Our vision is to be in five years the first choice of our customers in inspection, maintenance and repair solutions both for surface and subsea services in the oil and gas segment in Brazil, growing in a safe, sustainable and profitable way, where our employees will develop their potential in an environment conducive to the collaboration, teamwork and innovation," said Gutterres. Sistac business units are composed of:
Air diving: nondestructive testing – visual, thickness measurement, ACFM, magnetic particle and electrochemical potential measurement – thruster and hull repairs, etc., performed by divers breathing compressed air (50-meter depth limit).
S-DSV: vessel operation, used as a launch base for diving, inspection and ROV services. All of Sistac's vessels have been built by the company in its own shipyard.
ROV: ROV operation, used for visual inspection and electrochemical potential measurement on platforms, including Work Class ROVs.
Rope access: nondestructive testing – visual, thickness measurement, ACFM, magnetic particle and penetrating liquid – maintenance and lifting gear inspection. Rope access techniques performed according to International Rope Access Trade Association (IRATA) standards. Qualified personnel who access remote and exposed points on the platform structures.
Pull-in/pull-out: connection and disconnection of risers and/or umbilicals coming from the well to the platform or FPSO, using winches and divers or ROVs. Last task before the well starts producing oil.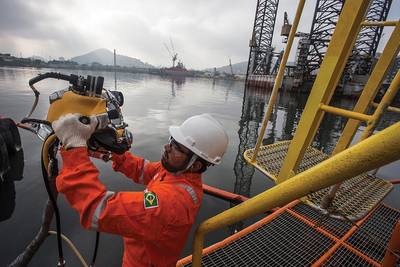 Sistac crewmember preparing dive helmet (Photo Sistac)Sistac`s Shipyard is located in Marina Verolme, Angra dos Reis-RJ, it is specialized in aluminum constructions, such as: S-DSVs, containers according to IMO – MSC 860, Dive and ROV LARS, helicopter decks and other offshore structures.
The Vessels
Sistac Vitória was developed from stem to stern to be a dedicated DP-2 capable diving support vessel, featuring fully integrated ROV launch and recovery, dive compressor and decompression chamber.
The vessel was constructed at the shipyard in Angra dos Reis, Brazil, and delivered to Sistac in the second half of 2014. A spacious wheelhouse is located upstairs, with forward and aft facing vessel control stations, ROV and dive control workstations. Overhead Windows are fitted both fore and aft for high-angle visibility.
The aft deck features a large working deck, which houses the ROV crane and reel, a pair of dive platforms and two deck cranes. Inside the main deckhouse are functional areas such as toilets and showers, dive shop (housing compressor and decompression chamber) and ROV shop.
Below decks are accommodations for the remaining 33 crew members, in a mix of two, three and four-berth cabins. 4 Scania D13 main engineers, each producing 410kW, power the vessel.
The DP-2 capability ensures the vessel can hold station in the event of a failure in any single component of the system, enhancing both safety and reliability.
Main Particulars
Length, o.a.: 42.5m
Length, waterline: 38.5m
Beam: 9.3m
Draft (hull): 1.85m
Fuel Oil Capacities: 112,000 liters
Fresh Water: 20,000 liters
Personnel: 36
Flag: Brazil
Type: S-DSV, Offshore Support Propulsion Performance
Speed (Service): 13 knots
Speed (Max): 15 knots
As well as being efficient, the vessel's new-generation hull form gives it excellent sea keeping characteristics, enhancing the functionality of the vessel in harsh offshore operations.
Sistac Esperança is a 25-meter, aluminum Shallow Diving Support Vessel (S-DSV) which has proven to be an easier and faster way to perform IMR services.
In addition, it provides a safer way of putting the diver in the water. In December 2010, the Esperança started operations through a contract with Petrobras.
Length, o.a.: 25m
Length, waterline: 23.3m
Beam: 6.4m
Draft (hull): 1.34m
Fuel Oil Capacities: 20,366 liters
Fresh Water: 6,188 liters
Personnel: 16
Flag: Brazil
Type: S-DSV, Offshore Support
Speed (Service): 13 knots

Sistac Vitoria S-DSV (Photo: Sistac)New projects
"In view of Sistac's excellent performance in the technological development project in partnership with SENAI and Shell in Bahia, we were invited to a new technology development project. These research and development projects are very important to the company and receiving an invitation of this type is a privilege for recognizing Sistac's effort to stay current in technologies. In 2016 we built the so-called Paths of the Future, which is nothing more than the strategic planning that Sistac must pursue to improve more and more. In particular, the Efficiency Project is one of many initiatives of our "Pathways of the Future".

The main objective of the Efficiency Project is to seek to optimize the use of company resources through: conscious consumption of inputs; search for better suppliers with more competitive prices and reflection on the ways in which activities are currently carried out. The Efficiency Project focuses on our costs and expenses, except personnel costs and expenses," said Gutterres.

The Efficiency Project will act in waves. The first wave will focused on the most relevant costs and expenses, which represent about 80 percent of the total, and the second wave focuses on the remaining 20 percent. The first wave is already underway and the second wave began in the second half of 2017. In addition, the Efficiency Project is subdivided into nuclei, each with a person responsible for monthly monitoring of the evolution of the initiatives that are operated by the owners of packages, which is a grouping of costs and expenses with similar characteristics. The Efficiency Project attained the goal of achieving a reduction of more than $800,000) in 2017.

"In an unstable political and economic scenario, such as Brazil faces now, I believe that the company should prepare to continue growing by seeking to operate safely, explore the high quality of our services, focus on the needs of our customers and through continuous search for efficiency. We will work very hard on these themes to continue in our trajectory of growth," said Gutterres. According to Marcos Passos, Commercial Director and of Sistac's New Businesses, the economic crisis and political context of Brazil negatively influenced the oil and gas market and many companies have suffered this impact.

Even with this turbulent scenario, Sistac remained stable and managed to extend three contracts with Petrobras: services such as industrial climbing, diving contracts and implementing services with divers and ROV with support from Sistac Esperança. In addition, we signed two more diving contracts (long-term), one with a new customer, Equinos (formerly Statoil), and another with Ensco. These achievements are a reflection of the value of the company, together with the commitment of all employees and quality of our services. The commitment from everyone was instrumental in getting this positive result during the crisis. Sistac has over two million professional diving hours to its credit, along with over 2,000 offshore interventions by its vessel. The company is present in the Campos, Santos and Espirito Santo Basins, along with Basins in Northeast of Brazil.

• Statoil • Chevron • finance