How Many Red Snapper Are in the Gulf of Mexico?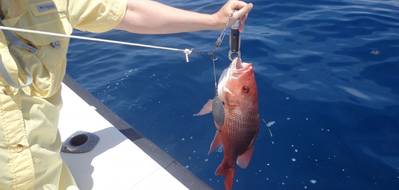 How many red snapper are in the U.S. waters of the Gulf of Mexico? A two-year, $12 million independent study led by a team of university and government scientists aims to come up with an estimate.
Several stakeholder groups have expressed concerns that there are more red snapper in the Gulf than currently accounted for in the stock assessment.
In 2016, Congress directed the National Sea Grant College Program and NOAA Fisheries to fund independent red snapper data collections, surveys and assessments, including the use of tagging and advanced sampling technologies. Sea Grant and NOAA Fisheries worked collaboratively to transfer federal funds to Mississippi-Alabama Sea Grant offsite link to administer the competitive research grant process and manage this independent abundance estimate.
To conduct the independent study, a research team of 21 scientists from 12 institutions of higher learning, a state agency and a federal agency was selected by an expert review panel convened by the Mississippi-Alabama Sea Grant Consortium. The team secured $9.5 million in federal funds for the project through a competitive research grant process, and together with matching funds from the universities, the project will total $12 million.
The project team will determine abundance and distribution of red snapper on artificial, natural and unknown bottom habitat across the northern Gulf of Mexico.
"We've assembled some of the best red snapper scientists for this study," said Greg Stunz, the project leader and a professor at the Harte Research Institute for Gulf of Mexico Studies at Texas A&M University – Corpus Christi. "The team members assembled through this process are ready to address this challenging research question. There are lots of constituents who want an independent abundance estimate that will be anxiously awaiting our findings."
Recreational anglers and commercial fishermen will also be invited to play a key role in collecting data by tagging fish, reporting tags and working directly with scientists onboard their vessels. "The local knowledge fishermen bring to this process is very valuable and meaningfully informs our study," Stunz said.
"Today's announcement is welcome news for all red snapper anglers in the Gulf of Mexico," said Sen. Richard Shelby of Alabama. "As Chairman of the U.S. Senate Appropriations Subcommittee on Commerce, Justice, Science, and Related Agencies, I was proud to author and secure federal funding to address the need for better data, which is a fundamental issue plaguing the fishery. The management of red snapper must be grounded in sound science if we want to provide fair access and more days on the water for our anglers. It is my hope that these independent scientists will be able to accurately determine the abundance of red snapper in the Gulf of Mexico once and for all."
"This research will be driven largely by university-based scientists with partners from state and federal agencies." Stunz said. "This funding will allow us to do an abundance estimate using multiple sampling methods with a focus on advanced technologies and tagging for various habitat types."
Scientists on the team include:
Greg Stunz, Harte Research Institute for Gulf of Mexico Studies, Texas A&M University – Corpus Christi
Will Patterson, University of Florida
Sean P. Powers, University of South Alabama, Dauphin Island Sea Lab
James Cowan, Louisiana State University
Jay R. Rooker, Texas A&M University at Galveston
Robert Ahrens, University of Florida, Fisheries and Aquatic Sciences
Kevin Boswell, Florida International University
Matthew Campbell, NOAA Fisheries (non-compensated collaborator)
Matthew Catalano, Auburn University
Marcus Drymon, Mississippi State University
Brett Falterman, Louisiana Department of Wildlife and Fisheries
John Hoenig, College of William and Mary, Virginia Institute of Marine Science
Matthew Lauretta, NOAA Fisheries (non-compensated collaborator)
Robert Leaf, University of Southern Mississippi
Vincent Lecours, University of Florida
Steven Murawski, University of South Florida
David Portnoy, Texas A&M University-Corpus Christi
Eric Saillant, University of Southern Mississippi
Lynne S. Stokes, Southern Methodist University
John Walter, NOAA Fisheries (non-compensated collaborator)
David Wells, Texas A&M University at Galveston
"American communities across the Gulf of Mexico depend on their access to, as well as the long term sustainability of, red snapper," said Secretary of Commerce Wilbur Ross. "I look forward to the insights this project will provide as we study and manage this valuable resource."

• Alabama • Auburn University • College of William