Solent Guardian to Host Tech Demos by aae, Klein @ Ocean Business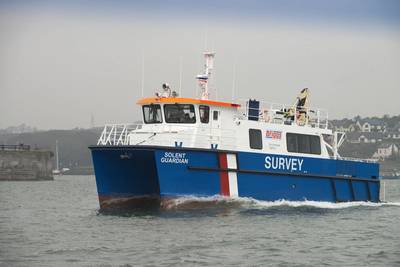 At Ocean Business in Southampton, UK next month, Briggs Marine's Solent Guardian will be on the docks to help innovators display their new tech.
aae technologies will host demonstrations of its integrated INS + USBL positioning system, Pyxis, joined onboard by Klein which will be launching the new 4K-UHR side scan sonar.
The company will be using the Solent Guardian to run demonstrations of its integrated INS + USBL positioning system, Pyxis. Building on decades of in-house experience in subsea acoustics, Pyxis takes the best of the company's subsea acoustic tracking technology and combines it with a highly advanced MEMS-based inertial navigation system (INS) from SBG Systems. As a fully integrated, factory fitted package, Pyxis is a portable, calibration-free USBL system able to operate immediately from a vessel of opportunity or as a permanent installation, providing major advantages in accuracy and performance, as well as time and cost savings.
Briggs Marine's five 'Guardian' class' survey vessels are the ideal platforms for carrying out a wide range of nearshore and coastal survey activities. Coded to MCA Category 2 and capable of carrying up to 12 passengers, the vessels can be mobilised anywhere in the UK or further afield if necessary. Vessels are available for short or long term charter and are well proven for delivery of hydrographic, environmental, geophysical and oceanographic surveys.