OET Testing New ROV Cameras for 3D Model Making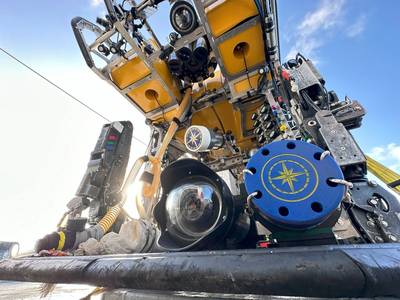 On October 22, the Ocean Exploration Trust (OET) launched a 14-day expedition aboard exploration vessel Nautilus to survey some of the most complex deep-sea geology around the Main Hawaiian Islands. The main purpose of the expedition is to test a new widefield camera array mounted on remotely operated vehicles (ROV). Footage from this system will then be used to create near real-time exciting applications for marine research and outreach. High-resolution video and sonar data collected on this mission will be used to construct three-dimensional models of each site using emerging tools developed by the video game and movie industries.
"This expedition is especially unique because we're integrating new and exciting camera technologies to see the deep sea in ways we never imagined," says Dr. Robert Ballard, NA156 Lead Scientist and OET Founder and President. "We hope to collect information and immersive imagery that can bring the deep ocean to classrooms, computers, and minds worldwide."
Operations using Nautilus' dual-body ROV system consisting of the main ROV Hercules and the towsled Atalanta will be the main focus of the expedition. During each ROV seafloor survey, OET will collect high-resolution (<1 centimeter) visual and acoustic data over the seafloor using a new widefield camera array system and Norbit wideband multibeam sonar. The widefield camera array was co-developed by the Ocean Exploration Trust and Sexton Corporation with funding from the Office of Naval Research (ONR). A customized software package for the Norbit sonar was recently developed by Corps of Exploration Navigator Dr. Kristopher Krasnosky, which takes raw data collected by sonar and allows onboard teams to visualize it in real-time.
High-resolution visual and acoustic data collected by the ROV-mounted sensors will be used to develop high-fidelity georeferenced models of surveyed landscapes. While similar technology has been applied before in deep ocean exploration, recent advances in commercially available data processing tools now significantly narrow the time delay between data collection and analysis, thereby allowing models to be built in near real-time and support decision-making in the field. This technology testing will continue to advance the repertoire of exploration tools available to scientists, as well as explore possibilities for new education & outreach experiences with the ocean.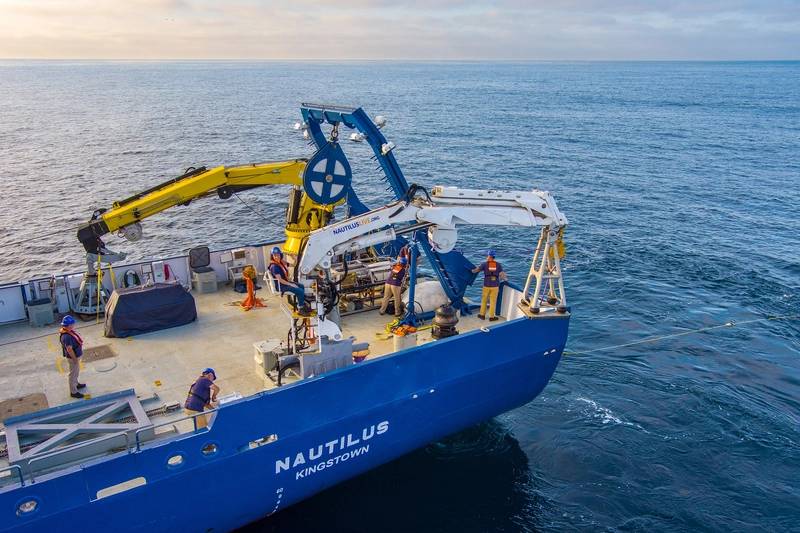 (Photo: Ocean Exploration Trust)
"While photogrammetry has been a tool utilized in ocean exploration for decades, those mosaics took days or weeks to produce. We intend to integrate the absolute best cameras with leading-edge modeling software to bring model creation to near real-time," said Jason Fahy, Expedition Leader.
This technology will be tested and challenged by visualizing a variety of complex underwater terrains throughout the Hawaiian Archipelago, including cliffs, pinnacles, and the active submarine volcano Kamaʻehuakanaloa Seamount. The deep ocean surrounding Hawai'i has been studied for a very long time, first by Polynesians who voyaged to this remote region over a thousand years ago and later by many other researchers of different disciplines. Knowledge acquired here previously provides a powerful foundation for applied research, such as the new seafloor visualization tools that will be developed during this expedition.
ROV dives will be operated in two different piloting schemes at each site. The first mode will resemble OET's typical exploratory dives, where exploration targets are chosen and refined based on seafloor sonar and visual data as it is collected. The second mode will be a more structured, linear, gridded dive plan designed to ensure continuous coverage of notable complex terrain of interest.
"The Widefield Camera Array is a truly cutting-edge immersive camera system. We designed it to be an ideal tool not only for the collection of high-resolution imagery for three-dimensional photogrammetric models, but also hemispherical video for immersive dome projection, virtual reality, and IMAX-quality cinematographic productions," said Jonathan Fiely, OET Media Production Specialist and lead designer of the system. "We're proud to have developed a camera capable of recording discoveries with the highest production quality available for deep ocean exploration."
In addition to technical experts, the expedition will include at-sea participation of four students and three classroom educators, who will gain hands-on experience with conducting scientific research in the field. As always the case with OET expeditions, community outreach is a key part of this expedition's goals. Audiences in Hawaiʻi and worldwide can join the expedition team learning about these offshore underwater mountains via NautilusLive.org, which provides 24-7 live-streaming, interactive events for schools, deep-sea highlight videos, and educational content.
Using the excitement of discovery, OET aims to create an ocean-literate society with workforce development, STEAM education programs, and public outreach, focusing on engaging historically marginalized groups. This is OET's eighth expedition of 2023 and 156th in the 15-year history of the program, with the mission of exploring our ocean while pushing the boundaries of technological innovation, education, and outreach.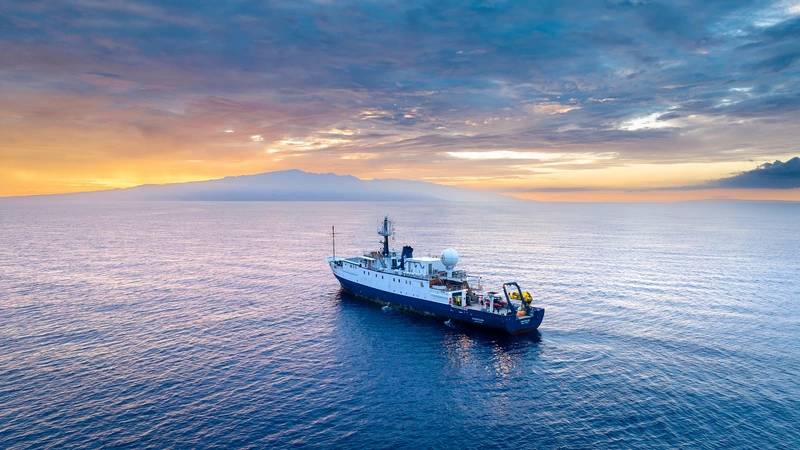 (Photo: Ocean Exploration Trust)