Unique Tech Helps Monitor Underwater Volcano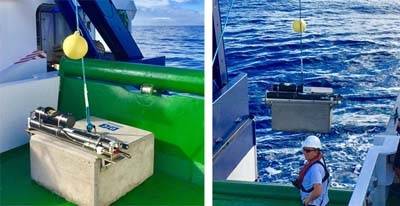 Helping the Spanish Institute of Oceanography (IEO) and both Canarian Universities to closely monitor the underwater volcano Tagoro off the coast of El Hierro Island in the Canary archipelago, RTsys has designed a combined seismic and acoustic system especially for the project.
RTsys designed a system combining three geophones – two pointing horizontally and one vertically – to measure ground movement in the area. A hydrophone was added to record the noise caused by the ground or by bubbles in the water formed by vibrations.
Submerged in October 2016, the system will be resurfaced at the end of winter season in 2017.
According to RTsys, the device is original in that it combines and synchronizes these four different analog sensors with digital sensors measuring temperature, salinity and other environmental parameters. RTsys has been able to overcome this challenge thanks to the SDA card, the technological core of the French company's products. Used on the ground by RTsys' Spanish distributor DC Ambientales, the system has a battery life of around 45 days. The data measured are recovered when the system is resurfaced.
The seismic research project in the Canaries archipelago area was driven by an underwater eruption off the coast of the island of El Hierro, on October 10, 2011, after 40 years of inactivity. Research projects commenced quickly in the weeks following the eruption and are being continued by five Spanish research institutes as part of the VULCANO II project.