VideoRay Wins US Navy Deal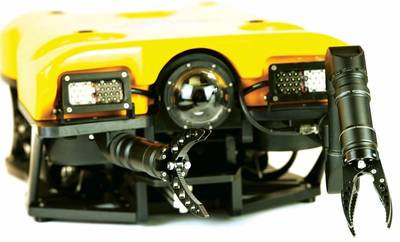 VideoRay announced its second multimillion-dollar award with the U.S. Navy to develop, define, and deploy new technology for Explosive Ordnance Disposal (EOD) operations. This contract follows the completion of an earlier prototype facilitated by the Defense Innovation Unit in 2018. The platform for both contracts is the VideoRay Mission Specialist Series (MSS) Defender ROV, which has been delivered for military and commercial uses to customers worldwide.
The Defender vehicle, based on VideoRay's Mission Specialist technology, is becoming the technology of choice for a wide variety of challenging missions. It is chosen by Navies, Coast Guards, First Responders, Offshore Oil and Gas Producers, and Offshore Renewable installation companies for many reasons:
Defender is a powerful, portable unit with open architecture, featuring Greensea Integrated Control and Navigation. Greensea's EOD Workspace software for sophisticated supervised autonomy and precise maneuvering. Greensea supports the US Navy with a Cooperative Research and Development contract for software development on this project.