Vryhof Reports New Contracts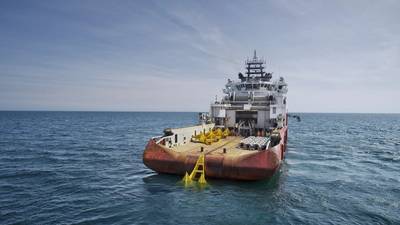 The Netherlands based offshore services provider Vryhof announced on Tuesday its three businesses Deep Sea Mooring, Vryhof Anchors and Moorlink have been awarded up to $75 million in new contracts to start 2019.
The contracts include deals for Vryhof Anchors for the WindFloat Atlantic wind farm, offshore Portugal, the world's first commercial floating wind farm, and the Havfarm 1 offshore fish farm project in Norway, one of the world's largest floating structures. In addition, Deep Sea Mooring (DSM) has secured contracts with Saipem Indonesia, Odfjell Drilling and Noble Drilling for the supply of mooring related services during 2019 in offshore Indonesia, the North Sea, and Myanmar respectively, as well as a large-scale contract offshore Australia. Vryhof Anchors has been awarded an oil and gas contract in Malaysia with SOFEC and connector specialists Moorlink has won several niche contracts in the renewables and oil and gas drilling sectors.
"While the past few years have come with significant market challenges to the offshore sector, the relentless hard work, customer-focused approach of all our teams and businesses, and continued diversification into the renewables and aquaculture sectors have ensured that we start 2019 on a positive note," said Wolfgang Wandl, Group CEO at Vryhof.
The Deep Sea Mooring (DSM) contracts and locations include the supply of pre-lay and rig move equipment and services to Saipem Indonesia to support Italian operator Eni's development of the Merakes and Jankrik fields offshore Indonesia. A minimum of six wells have been planned, with the potential for further add-ons.
The company also secured a frame agreement with Odfjell Drilling where DSM will support Odfjell's drilling operations offshore Norway and the UK. DSM currently supplies pre-lay and rig move equipment and services to the Deepsea Atlantic and Deepsea Bergen semi-submersibles, with the potential for more rigs coming under DSM's umbrella.
Noble Drilling has contracted DSM to supply engineering and rig moving services offshore Myanmar, where the semi Noble Clyde Boudraux rig has commenced a contract with Indonesian operator, PTTEP.
DSM has also been awarded a contract for the supply of two pre-lay spreads including the supply of all mooring line inserts, engineering and rig move services for a drilling campaign offshore Australia. The project is expected to last for a minimum of two years.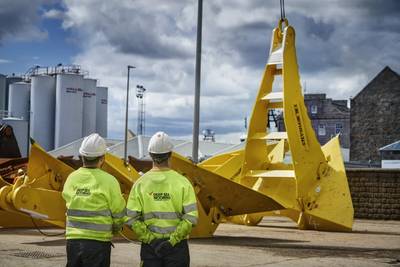 (Photo: Vryhof)

The Vryhof Anchors contracts include an agreement to supply project management services and full scope mooring systems for three floating wind turbines to the WindFloat Atlantic wind farm, offshore Portugal, the world's first commercial floating wind farm. This project is running in close partnership with Bourbon Subsea Services.

Vryhof Anchors will also provide foundations for the turret mooring system of the Nordlaks Havfarm 1 offshore fish farm project in Norway with Scana Offshore. This will become one of the world's largest floating structures.

The company will supply geotechnical expertise and drag embedment anchors to mooring specialists SOFEC for use in an oil and gas project, offshore Malaysia.

Another Vryhof company, Moorlink, a provider of connectors and mobile and permanent mooring solutions, has secured a renewables contract in Hawaii, where its swivels will be put to use in extreme conditions. The new deal highlights Moorlink's commitment to the emerging renewables marine energy market and its ability to customize innovative and cost efficient solutions for pressurized budgets made possible through more than 20 years expertise, the company said. In addition, Moorlink has also secured contracts in the drilling sector.

"In today's cost-conscious and challenging marketing environment, it's more important than ever for product and services companies to embrace innovation and help operators and contractors in the oil and gas, renewables and aquaculture sectors change the way they work and improve their commercial operations," Wandl said. "This is what Vryhof is achieving through a total, one-stop mooring and anchoring solution that can be customized for environments and sectors around the world."

• Australia • cost efficient solutions • Hawaii