Whale Rescuers of Bay of Fundy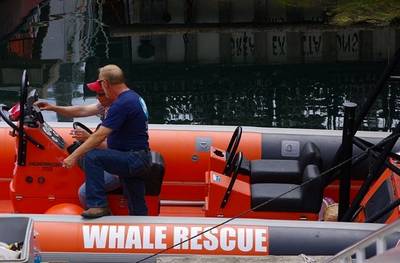 The Campobello Island Whale Rescue team disentangles whales caught in fishermen's gear and nets around the Bay of Fundy off the east coast of Canada.
Campobello Whale Rescue Team began after Mackie Greene witnessed a fin whale wrapped in fishing gear while leading a whale watching trip. Since then he and his team have worked with over 20 whales, risking their lives driving a Zodiac up next to animals that can be 40 to 70 or more feet long, and cutting through the lines entangling them.

Mackie trained with the Provincetown Center for Coastal Studies, pioneers in whale disentangling, and is now a Level Five First Responder. Later, on a trip to Cape Cod to learn more about the whale watching industry, he met members of the New England Aquarium's Right Whale Research Project who conduct surveys every summer in the Bay of Fundy. Back in Canada, he watched one of their disentangling efforts and offered his critique. They challenged him to do better. He did. The two groups now work closely together when whales are entangled. The Aquarium's researchers are out on the water as often as weather permits. When they find an entangled cetacean, they contact CWRT and stay with the whale until the team arrives.

The Bay of Fundy is summer home to a large number of whales species. An important feeding ground for North Atlantic right whales, it is also a rich fishing area, yielding lobster, crab, shrimp, herring, haddock, pollock and cod. Minke, fin and humpback whales are also found here in significant numbers. Campobello Island, just barely over the US border from Maine, is part of New Brunswick and home to the Campobello Whale Rescue Team.

CWRT can be in the midst of the Bay's prime whale territory within an hour when a rescue is needed.


• Bay of Fundy • Canada • East Coast of Canada